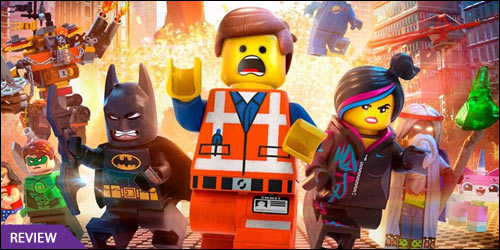 If you're a parent of children ages 1 through 14 you've most likely invested in LEGO toys. And why not? They inspire creative thinking, bridge generations, and provide a welcome relief from electronic devices. In the last several years, LEGO has branched into original animated television series as well as an assortment of video games. They've also licensed popular Movie (Harry Potter, Star Wars, etc.), Super Hero (Batman, Superman, The Avengers, etc.) and Pop culture properties to entice a broader range of consumers. Given LEGO's success it seemed inevitable a feature length movie would be developed to capitalize on the worldwide strength of their brand. Enter The LEGO Movie, a story that attempts to piece together the meaning of Fatherhood.
How's The Story?
Borrowing heavily from several different movies and genres, The Lego movie places its hero, Emmet Brickowoski voiced by Chris Pratt, as the everyman underdog who's plucked from obscurity by chance and must rise up to the challenge against incredible odds to save the world from certain destruction. There's plenty of fast paced action and dialogue along with a healthy dose of humor. Batman, voiced by Will Arnett, nearly steals the movie with his comedic hijinks. In general, the story moves along briskly with predictable yet highly entertaining scenes.
It's not a stretch of the imagination to assume the creative team had a blast making this movie. Yet the live action scene of The Lego Movie struck me as misplaced and somewhat forced. It almost felt as though the writers felt the movie needed more emotional depth as well as an opportunity to interject a teaching moment about fatherhood.
How are the Special Effects?
LEGO fans will rejoice at the intricate detail given to the characters and world of the movie. For example The LEGO Movie included LEGO part numbers throughout the story in referencing how different set pieces were built. No doubt LEGO Master Builders were employed by the production to maintain a level of authenticity.
Any opportune moments for Bathroom breaks during the movie?
The scene with Emmett, Wildstyle/Lucy, and Vitruvius in which the explore Matrix style, the creative mind of Emmett.
Overall Grade: B
Recommended for kids ages 5 and up with adult supervision.
Pros: Energetic, visually captivating scenes will thrill LEGO fans.
Cons: Disturbing scene with the Bad Cop/Good Cop and his parents. The use of the live action scene was disruptive.
Official The LEGO Movie Trailer