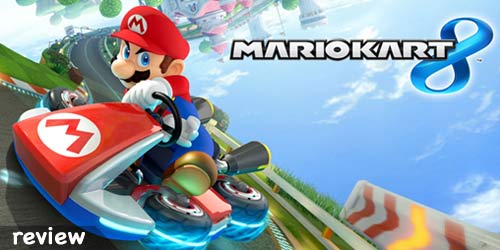 Mario Kart 8 is Nintendo's amazingly fun new Kart racing game for the Wii U in full HD. Building on Nintendo's 22 year kart racing franchise, both classic play and new innovative ideas are built into the game featuring new racing circuit designs and anti-gravity karts. Sporting both local and online gameplay for single or multiplayer, Mario Kart 8 offers a huge bang for the buck.
Mario Kart 8 – Ready, Set, Go!
How's the Gameplay?
One of the perks of parenthood is being able to rediscover activities one enjoyed as a kid. For this review, that meant not only playing Mario Kart 8, but doing so with my children. Nintendo could have taken a conservative approach to developing Mario Kart 8 and just upgraded the graphics to HD along with a few minor tweaks. Realistically, fans would have been content. Instead the Nintendo game development team challenged itself to push the threshold. The result? A supercharged, smile inducing, brilliantly designed, cutting edge kart racing masterpiece. Mario Kart 8 leaves its competitors spinning their wheels at the starting line. It's the best Mario Kart racing game experience in the franchise's history.
Highlights:
Intuitive Controls – Mario Kart 8 is easy enough for a new player to pick up and play without prior knowledge of any previous Nintendo racing game.
Anti-Gravity racing – allowing racers to maneuver upside down and every which way as they navigate the race circuits. The transformation from normal kart racing to antigravity style is seamless and sublime. For example, racing on the side of a wall makes for hyperrealistic gaming goodness. I dare you not to smile when doing so.
Frame Rate – The action runs at a gloriously smooth 60 frames for second. That goes down to 30 frames per second when playing more 4 or more players but the graphics and action still look remarkable.
Vehicle and Character Choices: Mario Kart 8 provides 30 characters and offers a wide selection of mascots to select. Also, the vehicle options and accessories are numerous and offer upgrades as players advance in the race circuits.
Mario Kart TV – Mario Kart TV's easy to use editing suite lets you tweak your gameplay highlight reels, and re-watch your favorite performances.
Overall Grade: A
Recommended for ages 5 and up.
Pros: All hail the new champion of Kart Racing games. Exceptional replay value.
Great for casual and experienced gamers alike. Amazing graphics and game play.
Cons: Battle Mode seems kind of pointless. It doesn't differentiate much from the tracks one's already raced and doesn't give players enough to do to feel they're in any sort of battle.
Mario Kart 8 – Highlight Reel – Vs Mode

What's your favorite Nintendo game?