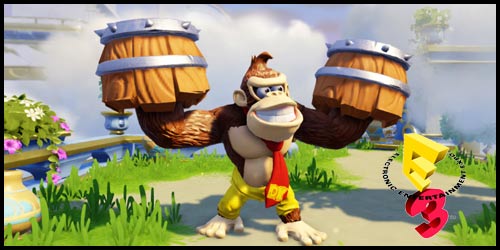 Gamers from all over the world are focused on the 2015 Electronic Entertainment Expo this week to glean what game developers have up their collective sleeves. As a former producer/writer for HappyPuppy.com, one of the first and arguably best video and computer game lifestyle websites, I still hold a keen interest in the genre. As a Dad, I've happily shared my love of games with my kids which in turn has reignited my focus on not only what's cutting edge in the electronic game industry but specifically how the latest games will impact kids in general. Taking a passive approach to awareness will result in a rude awakening for many parents. We here at CuteMonster HQ decided to not let that happen to our readers on our watch. In fact, we'll be posting what we deem to be noteworthy 2015 E3 news updates and tidbits right here on this page.
LEGO Dimensions
This marks LEGO's entry into the lucrative multiple toy purchase/video game market dominated by Skylanders. LEGO has partnerships with Marvel, DC and well as several movie franchises. Plus kids are wild over LEGOs. We predict this holiday season will be a particularly expensive one for parents. As per the press release "Launching September 27, 2015, LEGO Dimensions will be available for Xbox One, the all-in one games and entertainment system from Microsoft and the Xbox 360 games and entertainment system from Microsoft, PlayStation4 and PlayStation3 computer entertainment systems and the Wii U system from Nintendo."
Skylanders Superchargers
The enormously successful toys-to-life gameplay genre will now be joined by vehicles-to-life gameplay. According to the press release "Skylanders SuperChargers is a high octane action-adventure videogame where fans have the freedom to speed across Skylands' roads in vehicular combat, race down roaring rapids and engage in aerial dogfights as they barrel roll through enemy swarms." What's particularly intriguing is the inclusion of beloved Nintendo characters Donkey Kong and Bowser. Skylanders has infused Turbo Charge Donkey Kong and Hammer Slam Bowser figures with unique attributes, enabling them to be playable in both Skylanders SuperChargers and select amiibo compatible games with a simple twist of the characters' bases. The official launch will be September 20, 2015 in North America.
Super Mario Maker
Budding game developers will love this title. You can build your own side-scrolling Super Mario Bros. levels. Skin those levels to look like different Mario games, ranging in visual style from the NES's 8-bit versions to the Wii U's 3D, high definition Mario games. Plus Nintendo will let you share your level with others online but you have to beat your own level first to do so. Available for Nintendo Wii U September 2015.
Unravel
In Unravel, a physics-based puzzle game platformer, you play as Yarny, a tiny new character made from a single thread of yarn that slowly unravels as you move. You navigate your way through nature's obstacles inspired by the visually stunning environments of Northern Scandinavia. Available for PC, PlayStation 4, Xbox One. No release date yet.
Guitar Hero Live
What's intriguing about this latest installment of Guitar Hero is GHTV, the world's first official playable music video network. As per the press release "GHTV is a 24-hour, always-on mode that lets fans play along to a continually-updated collection of official music videos – across a wide variety of genres – from the newest releases to favorite hits." Guitar Hero Live will be available October 20, 2015 on PlayStation 4, PlayStation 3, Xbox One, Xbox 360, Wii U and select mobile devices.
What's on your shortlist for upcoming games?
More about games info on CuteMonster.com