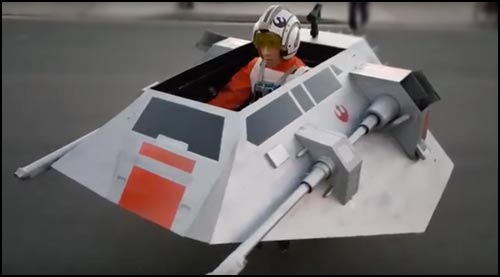 We here at CuteMonster headquarters love Halloween. If somehow the day could be extended to a full month of Halloween activities we'd be all for it. Yet children with disabilities don't always get to experience the adventure of the annual spooky holiday. That is unless you have a great Dad like Jeremy Miller. His Dad, Ryan Scott Miller, made Jeremy arguably the best Star Wars Halloween costume of 2015. Truly, the force is strong with the Miller family.
Jeremy Miller's Dad wins hero of Halloween this year hands down. He created a battle ready Star Wars snow speeder for Jeremy's wheelchair with actual working flaps and a Nerf dart shooter blaster with glow sticks used as ammo! Imagination combined with technical skills add up to an amazing result.
Check out Jeremy's Snow Speeder in action!

Making lasting positive memories is so essential for any kid's childhood. Congratulations to Jeremy's Dad for a fantastic job in 2015. Happy Halloween to the Miller family. And Jeremy, look out for those Imperial At-At Walkers!
Halloween Related:
Like this article? Be sure to share it as well as give our Facebook page a LIKE! It's our informal hangout for CuteMonster fans who enjoy all things pop culture, entertainment, and family fun.