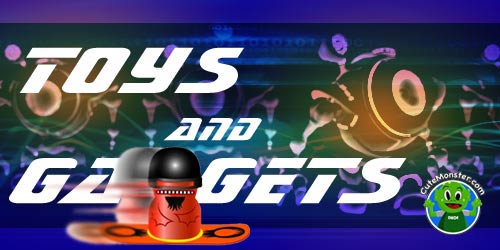 If you take a hard look at the toy industry in 2015, there's an abundance of battery powered gizmos. Without question a lot of these technological wonders can provide fun experiences for kids of all ages. Still, given that most of these toys are operated remotely, there's a tangible level of disconnect between the toys and the human beings operating it — a disheartening reality attributed to the digital era. Thankfully, all is not lost. At a recent Time To Play Magazine toy industry event, I had the good fortune of discovering SkaZooms — an innovative collectable toy line that reignites kid powered gaming fun.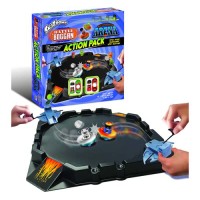 The SkaZooms Battle Boggan ACTION PACK was sent to CuteMonster HQ for a hands on review. SkaZooms are unique, colorful and highly collectible character toys that come with interchangeable customized helmets and boards. They're engineered for action with the ability to glide across smooth surfaces with ease. The addition of SkaZooms accessories amplify the fun factor allowing your SkaZooms to jump, flip, bounce, spin and crash battle!
Check out the SkaZooms Battle Boggan ACTION PACK in action:
Recommended for kids ages 7 and up, the SkaZooms Battle Boggan ACTION PACK offers a lot of value. Straight out of the box you get two SkaZooms — includes the characters, helmets, and riding boards — a battle arena, and two Battle 'Boggans — rip cord powered SkaZooms spinners. I was immediately impressed by the attention to details ranging from the build quality of the SkaZooms to the different angles comprising the play area in the Battle Arena. The fit and finish of the set are top notch. For example, both the intuitive placement of the SkaZooms Battle Boggans in the Battle Arena and the angle in which they spin the SkaZooms are seamlessly integrated.
What's the fun factor?
SkaZooms Battle Boggan ACTION PACK embodies kid powered fun at its best. Set up is easy, the whimsical SkaZooms are quirky fun, and the game play never gets old. As an adult, you ultimately have a handful of toys you remember nostalgically from your childhood. SkaZooms makes a strong case to earn a spot on any kid's list.
Overall Rating: A
Recommended for kids of all ages 7 and up.
Pros: Fun, well designed family fun. Great replay value.
Cons: Your kids other toys might collect dust.
How about a GIVEAWAY?
Funny you should ask! Enter our SkaZooms Battle Boggan ACTION PACK giveaway using the Rafflecopter entry form below. The contest ends Sunday November 22, 2015 at 11:59pm.
You can also find SkaZooms Battle Boggan Action Pack for sale at Amazon (affiliate link).
Good luck everyone!
Like this article? Be sure to share it as well as give our Facebook page a LIKE! It's our informal hangout for CuteMonster fans who enjoy all things pop culture, entertainment, and family fun.