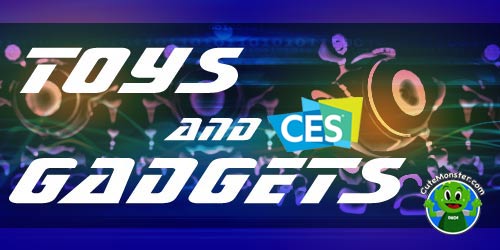 Becoming a new parent in tech terms could be described as leveling up. Yet the actual tools available for new parents to succeed in their life-changing roles have historically been poorly designed. Little things possess the potential to become a daily nuisance such as installing a car seat or preparing baby formula. Advances in technology aim to alleviate much of the new parent guesswork. A couple of highlights from the 2016 Consumer Electronics Show (CES) point to a bright future.
cutting edge tech for new parents
4Moms Self-Installing Car Seat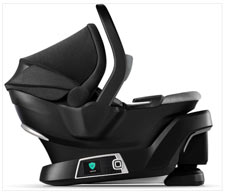 Your friends had family may have warned you but nothing compares to the actual frustrating experience to properly install a car seat for the first time. I personally made the mistake of underestimating the difficulty of said exercise a mere hour before my firstborn child was to depart the hospital for home. Expletives were shouted. Fingers were inadvertently pinched. The 4Moms Self-Installing Car Seat (I'm hazarding a guess Dads can use it too!) still requires you to loop it into the car but once completed the base auto-tensions. On the side of the base you'll find a display informing you if it's auto-leveled. During each subsequent install the base tells you if the carrier is situated safely. You might end up giving the 4Moms Self-Installing Car Seat a hug each day right along with your kids.
Available June 2016. MSRP $500.
Gerber BabyNes Formula Dispenser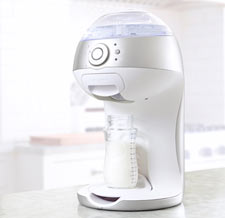 New Parents that are coffee addicts drinkers should appreciate this device. Building on the familiar Keurig design, the BabyNes Dispenser uses formula pods—safety sealed capsules to protect from contamination—for formula milk which is heated and dispensed at the perfect temperature. The device is wifi enabled and has an app which offers feeding alerts as well as tracking your child's growth and nutrition. Need more "gee whiz" factor? Formula pods have their own barcode which enables the Gerber BabyNes Formula Dispenser to identify the type of formula it's making. Other thoughtful design touches included LED lights for nighttime use, non-slip bottle, and a capacious 27 ounce water tank for multi bottle usage.
Available now. MSRP $249.
Admittedly these new gadgets won't completely eliminate the trials and tribulations of being a new parent. And really, who'd want to miss out on all the strife fun? Still, the impact of 21st century technological advances will continue to improve life's experiences in ways we've yet to discover. Onward!
What sort of tech gizmo do you wish was available as a new parent?