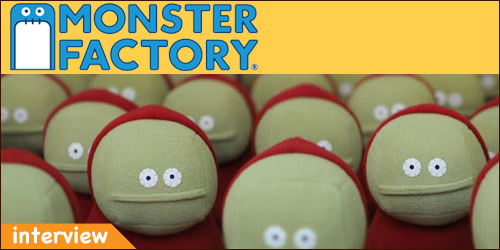 In this episode of The CuteMonster Show podcast, I interviewed Rhya Tamasauskas—entrepreneur, multi-disciplinary designer,and co-founder of Canadian based toy brand The Monster Factory. I first stumbled upon the brand at the New York Toy Fair. I checked out their website, had the opportunity to review a couple of their plush toys and have been recommending the brand for years. What's always fascinated me has been the creative process behind a toy brand's success. Rhya gives the inside scoop from her own personal experience on what it takes to make it in the toy industry.
Highlights from The CuteMonster Show
We've never targeted an audience. We've targeted more of a feeling. Our stuff is full of humor. We've made stuff that we've liked. – R. Tamasauskas

Mentoring is incredibly important. – R. Tamasauskas
Subscribe: iTunes | Android | Email | Google Play | Stitcher | RSS
Related Links:
The Monster Factory's Official site: Monsterfactory.net
The Monster Factory's Facebook Page: MonsterFactoryStudio
The Monster Factory on Twitter: @_monsterfactory
Rating and reviewing The CuteMonster Show podcast on iTunes and Stitcher really helps us out. Also, if you like what you've heard, please share this post so that other people can discover The CuteMonster Show!
Thanks for listening! Be sure to keep up to date on the CuteMonster Facebook page.