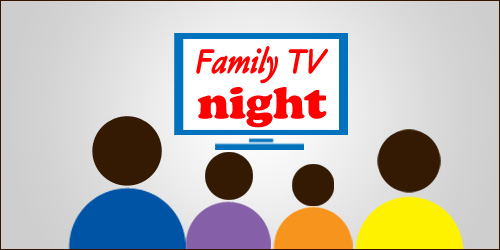 Remember Family TV nights? I grew up in the late 20th Century before cable television or the internet was an option. A mere three television networks provided the bulk of entertainment content for families across the United States. Yet, a variety of family oriented programs, ranging from dramas to comedies, were available at ideal time slots for family viewing. The advent of cable television changed viewing habits tremendously. Streaming video via the internet further altered the entertainment landscape. It seemed as though Family TV nights would never be relevant again. In reality, they never went away. Modern parents just need to adapt.
On-demand entertainment doesn't have to result in family members splitting into separate viewing islands. The same holds true with the multitude of different shows available on cable television. In fact, scheduling time with one another has become more convenient than ever. The quality of family shows being produced by broadcast networks, cable networks, and even Streaming Services reflects a renewed spirit for the genre. Below are some of my current editor's choice picks.
The Best Family Shows of 2016
The CW's The Flash. It possesses the perfect blend of action and drama while still being relatively light on sexually themed content. Recommended for ages 10 and up.

Liv and Maddie. Smart teenage sitcom from Disney that focuses on family, friendship, and love. Recommended for ages 8 and up.

ABC's Modern Family. A wonderful cast and engaging dialogue add to the mix of this brilliantly edgy sitcom. Recommended for ages 10 and up.

American Ninja Warrior. An athletic competition series featuring men and women navigating their way through challenging obstacle courses. Recommended for ages 8 and up.
All of the shows above are syndicated or available via streaming services.
Do you have a family tv night in your home? What are some of your favorite shows to watch with your own family?