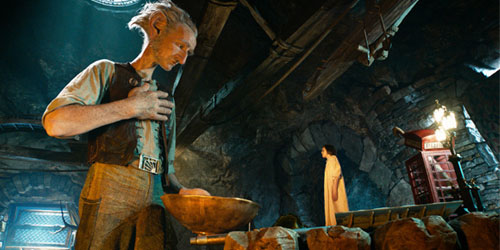 Admittedly, I did not read Roald Dahl's original book version of The BFG. Other than the movie trailer, I had no inkling what the story would be about. Perhaps that particular tidbit was serendipitous. My colleagues for this particular review were two pint-sized versions of yours truly, namely my kids. One was thrilled at the prospect of seeing this film while the other likened viewing this movie to getting one's teeth cleaned at the dentist. It was a tough sell but luckily after extolling the "cool factor" of Giants, my oldest was all in for the review.
How's the story?
If you're expecting an action packed adventure from the very start you'll be in for a rude awakening. To say this movie crawls in the beginning would be an understatement. It's a surprisingly very British film rather than a typical Steven Spielberg tale, similar in tone and pacing to The Witches with Angelica Huston. Yet once the exposition aspect is done things start to pick up in earnest. We get to know the main characters and become immersed in the world of Giants. Ruby Barnhill who plays 10 year old Sophie, the lead character, can be borderline annoying yet I'd fault the script more than the actress. Still, Mark Rylance's portrayal of The BFG is endearing. Overall it's a pure fantasy story requiring a suspension of disbelief to succeed. You won't leave the theater enthralled but you might find yourself having a pleasant smile.
How are the special effects?
Remarkable actually. The interaction between the humans and Giants looks seamless. Indeed, many scenes are breathtakingly stunning offering visual delights that will captivate audiences of all ages. The set design works exceedingly well to bolster the storyline. The city scenes in particular standout in their engagingly refreshing whimsy.
Any moments in the movie for a Bathroom break?
You can mark down the first 20 minutes as safe to answer nature's call. After that I'd suggest BFG's time spent with the Queen of England. Really though, feel free to take a break at any time. Did I mention this movie's pacing was slow?
Overall Rating: B-
Rated PG. Recommended for kids ages 8 and up.
Pros: Remarkable CG design. Mark Rylance's performance as the BFG.
Cons: Pacing can be painstakingly slow at times. Kids and adults were napping in the theater.
Official Trailer for The BFG