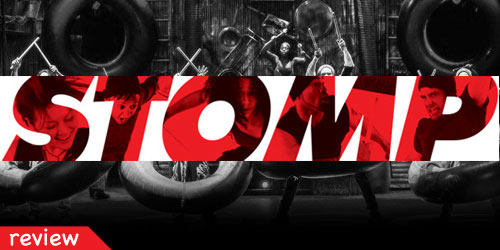 Off-Broadway's STOMP has been bringing the noise to thousands of audiences at the Orpheum Theater in New York City since 1994. In fact, that year I took my future wife on a date to see STOMP, one of the hottest tickets in town. Unfortunately, she was dead tired from a combination of travel and hectic work schedule. The result? She inexplicably fell asleep during the middle of the show despite the wall-shaking volume. Nonetheless, I personally loved the performance and promised to take her again in the future when she was not in a state of exhaustion. That fateful day arrived this past Saturday for my family. Prior to the show I wondered if our kids would enjoy it and if my wife, now juggling work and parenthood, would resist napping.
About the Show
STOMP can be classified as high energy performance theatre. It's comprised of sound, rhythm and choreographed movement incorporating non-traditional dance. Strewn about the walls of the Orpheum Theatre are a collage-like collection of traffic, subway and street signs, plastic garbage cans, fans, pipes, fans, hub caps and more culminating in a variety of said inanimate objects on stage. The adrenaline-laden cast uses these common objects in spectacular fashion to transport the audience on a percussive thrill ride.
How was the Performance?
From a personal standpoint, my children's expressions of wonder and delight filled me with joy. They were engaged in a live show that was decidedly non-tech yet demonstrated the fun potential for real world interaction with one's environment. Starting with the subdued entrance of the first cast member to the electrifying ensemble at the end, the energy level builds to a crescendo in the finale. The unorthodox choreography has an edgy grit befitting the lower east side of Manhattan location. The synchronicity of movements bursts forth with a tenacity that grips you tightly and never lets go. Don't be surprised if you leave the theater with an urge to make rhythmic beats in the world around you.
What you should know before attending the show?
Make use of the bathroom before the performance begins. It's an estimated 90 minutes performance with no intermission. If nature calls during the show, you can answer said call but it's truly distracting for the cast and audience when people exit and enter the theater.
Kids ages 6 and up should be fine. The noise level is quite high though which could bother some children.
The theater sight lines are fine no matter what seat you're in but for younger audience members, they may require a booster seat. The theater has a relatively small number available to distribute but it's on a first come first serve basis.
Overall Rating: A-
Recommended for audiences ages 6 and up.
Pros: Energetic engaging cast. Non-stop action. Creative use of ordinary objects.
Cons: Theater seating can be a tight squeeze for large patrons. Theater sight lines for young kids require a booster seat for optimum viewing experience.
Official STOMP video
Visit Stomp online for more show and ticket ordering information.