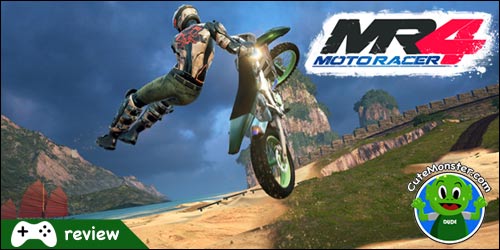 Microids Moto Racer 4 enters the fray promising to fulfill arcade-style motorbike racing video games fans need for speed. I've been a huge fan of racing-based video games but for the most part that meant cars. To me motorcycles have always seemed like ridiculously high speed machines built for loners with a death wish. Still, that perception was based on fear rather than firsthand knowledge. In truth, motorcycles look like a lot of fun. Thankfully video games allow us to dip our collective toes into the unknown. I couldn't wait to test out Moto Racer 4 on our newly acquired Xbox One S.
How's the game play?
Much like any arcade-style video game, action is paramount. Sure you can cycle through picking the best looking bike/rider combination as well as which course to race on but it's the speed factor that propels the game forward. You have several options to choose from including a quick race or playing through a championship set of races. The courses vary from asphalt to dirt roads in a variety of locales. The environment you select forces the player to adapt to the style needed to win. I found driving a motorbike via the Xbox One S controller required a bit of learning curve for me. Ideally, if there was a full size arcade-style motorcycle accessory one could hop onto and lean left and right into turns that would be ideal. Yet that would also be cost prohibitive. In addition, you'd need a wife that wouldn't exile you from your home after revealing said purchase. Thankfully after spending time with the game, I was able to adapt to the sensitive touch needed to excel. Both single player and head-to-head racing provide adrenaline-laden racing fun.
How are the visuals?
Either the Xbox One or PS4 will handle this game swimmingly. The game's graphics don't push the technical envelope yet are still pleasing to the eye. And as with any video game, it's the level of fun that dictates its inherent value. Moto Racer 4 lets the player jump right into the mix of motorbike racing with ease rather than piling on unnecessary layers of filler material.
Overall Grade: B+
Recommended for ages 10 and up.
Pros: Arcade-style motorbike racing fun.
Cons: Learning curve might frustrate some in the beginning.
Official Moto Racer 4 Trailer

Publisher: Microids
MSRP: $39.99
Availability: Xbox One and PS4 1/24/2017
SECRET BONUS LEVEL
The good folks at Microids gave us a couple of free codes for digital downloads of the XBOX One version of Moto Racer 4. Want to be one of the TWO lucky gamers to win? Enter below. Giveaway ends 1/31/2017. Good luck!