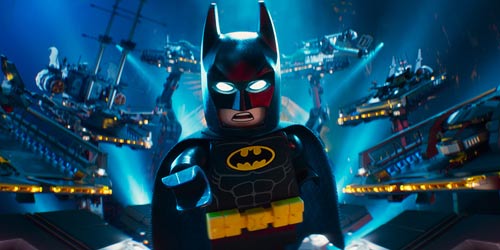 If you're a Batman fan and really, why wouldn't you be, then you've heard of the new The LEGO Batman Movie. In a world where LEGO and Batman co-exist, one wouldn't necessarily think about pairing the two together. Yet The LEGO Movie proved the dark knight fit in awesomely. Hence, the creation of the solo film aptly titled The LEGO Batman Movie.
How's the Story?
In The LEGO Movie we were treated to a mere sampling of LEGO Batman's world. In this new story, Batman battles his nemesis, The Joker, to stop a hostile takeover of the city. The lone vigilante must learn to work with others if he hopes to stand a chance of winning. Adults will revel in the numerous pop culture references and kids will giggle at the hilarious sight gags.
How are the special effects?
I viewed the movie in 3D. That being said, I felt The LEGO Batman Movie would be just as enjoyable in 2D. The vividly stunning, on-screen mayhem will delight audiences of all ages. The design team never misses an opportunity to incorporate the joy of LEGOs throughout the story. The transformation of well-known DC heroes and villains into LEGO figures works remarkably well. The non-stop action sequences will have you on the edge of your seat as well as an ear-to-ear grin on your face.
Any bathroom break opportunities?
It's a relatively fast paced movie. Still, if nature calls, look to Batman/Bruce Wayne at home or when he first introduces Robin to the Batcave.
Overall Grade: A-
Recommended for ages 8 and up.
Pros: Stellar voice-acting provided by Will Arnett as Batman, Michael Cera as Robin, Rosario Dawson as Batgirl/Barbara Gordon, Ralph Fiennes as Alfred Pennyworth, and Zach Galifianakis as The Joker. Incredible and hilarious action sequences throughout the movie. There are Pop Culture references for days.
Cons: The story can drag a little at times.
The LEGO Batman Movie Official Trailer