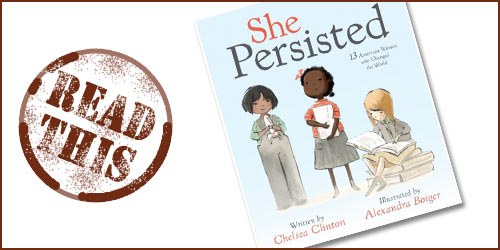 Chelsea Clinton, the daughter of former U.S. Secretary of State Hillary Clinton and former U.S. President Bill Clinton, announced her new children's book featuring 13 inspirational women in American history. The name of the book, "She Persisted", reflects a statement made by Mitch McConnell, the Republican Senate majority leader, in February 2017 after Republican senators voted to formally silence Senator Elizabeth Warren, Democrat of Massachusetts, as she was reading a 1986 Coretta Scott King letter criticizing Senator Jeff Sessions's civil rights record.
Convergence of Politics and Art
Mr. McConnell said the following about Ms. Warren.
"She was warned…She was given an explanation. Nevertheless, she persisted."
Ms. Clinton states:
"I wrote this book for everyone who's ever wanted to speak up but has been told to quiet down, for everyone who's ever been made to feel less than."
The list of women included in "She Persisted" are Harriet Tubman, Helen Keller, Clara Lemlich, Nellie Bly, Maria Tallchief, Claudette Colvin, Ruby Bridges, Margaret Chase Smith, Katherine Johnson, Sally Ride, Florence Griffith Joyner, Oprah Winfrey, Sonia Sotomayor, and one cameo yet to be announced. The book, illustrated by Alexandra Boiger, will be available in bookstores on May 30th. Ms. Clinton's previous books include "It's Your World: Get Informed, Get Inspired & Get Going!" and "Governing Global Health: Who Runs the World and Why?," written with Devi Sridhar.
It seems that Children as well as Political Pundits will be eagerly awaiting the book's arrival in early Summer. We live in interesting times.
What do you think?
If so inclined, you can pre-order the book via our Amazon affiliate link.