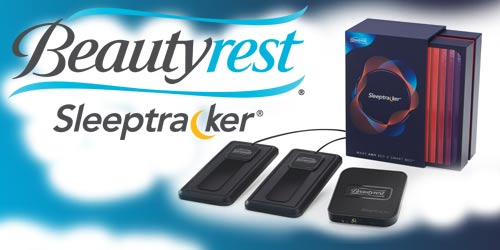 When I partnered with Beautyrest to try out their Beautyrest Sleeptracker monitor, I leapt at the opportunity. As a Dad, sleep has been elusive. Yet I've known the value of a good night's rest since I was a child. Growing up, I felt more complete with the proper nutrition and sleep routine. Life has a way of getting us off the rails though. We take on new responsibilities such as work and family. Stress factors in heavily. Bad habits form over time undermining our health and well-being. Honestly, the arrival of the Beautyrest Sleeptracker monitor couldn't have arrived at a more relevant time.
Typically, one sets up the monitor in the bed where they sleep. The week I had planned to test out the device, my youngest child had developed an ear infection. That meant she wanted to sleep next to her mother while she recuperated for the next several days. Me? I was assigned to the couch. In retrospect, I suspect my weeklong Beautyrest Sleeptracker results benefitted from my solo slumber routine. I only needed to use one of the two sensors included with the monitor. In addition, my wife, who tends to be an active sleeper, constantly shifts positions throughout the night which might have muddled the data. In essence, for 5 days I found myself comfortably nestled in sleep island.
Lasting Impressions
I love how the Beautyrest Sleeptracker monitor/app combination helps address the things keeping me up at night. Coupled with personalized tips and easy-to-implement tips to improve the quality of my sleep I felt more confident making adjustments. The attention to detail impressed me to the extent that I found myself motivated to stick to a schedule. Using technology to improve one's life just felt right. Especially since the tech used is completely non-invasive and plugs into a wall outlet. There's nothing to wear, no concern about charging batteries, just hassle-free useful technology at its finest.
The Future
Inevitably life will continue to play a role in my sleep habits. My kids will discover new ways to disrupt the status quo. For example, sleeping-in on the weekend remains a foreign concept to my beloved progeny. And it's still fun to pounce on a seemingly asleep Daddy while simultaneously inquiring "are you awake Daddy?!!" Which makes sense given that growing pains include the entire family. #ISleepTo be a better me. The Beautyrest Sleeptracker monitor gets it. Well done Beautyrest.
Disclosure: I partnered with Beautyrest and Life Of Dad to bring awareness to the Beautyrest Sleeptracker. All opinions are my own. Better sleep shall be mine.