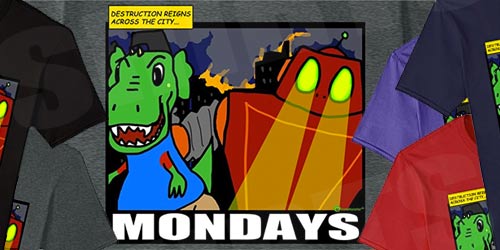 In our never ending pursuit of testing out fun ideas, we've decided we're giving away this cool shirt to one of our lucky readers. But let's back up a bit, shall we? We've designed fun t-shirts and placed them for sale on Amazon with very little fanfare. In a sense, the action was implemented as an entrepreneurial experiment to see which CuteMonster designs might catch on with the public at large.
After speaking with some level-headed business folks, it was strongly suggested we actually promote what we're doing rather than letting our designs exist unnoticed in the cold vastness of the internet. It's the whole notion of the squeaky wheel getting the oil, the early bird getting the worm, and Jar Jar Binks never being meant to be more than bad comic relief in Star Wars Episode I. But we digress.
We're officially announcing our shirts available for sale on Amazon. Go here for our latest designs. Tell the world and please review the t-shirts on Amazon if you buy one of our shirts. We couldn't think of better advocates than our phenomenal CuteMonster community!
On to the Giveaway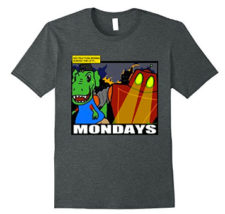 We love this shirt. It has a dinosaur and a robot wreaking havoc on a city AND it's a metaphor for a typical Monday. Mind blown! Just enter below for your chance to win. It's available for Men, Women, and Kids. You can choose from the following colors: black, navy, cranberry, purple, and dark heather.
Good luck! Remember to check out all of our shirt designs now available on Amazon!