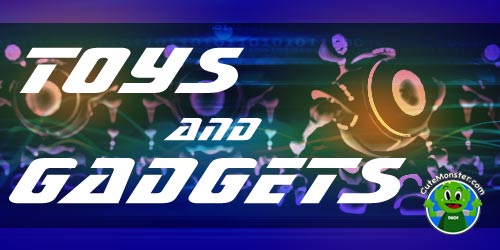 The Magic Sketch by Boogie Board arrived at an opportune time here at CuteMonster headquarters. My family and I had been taking a lot of road trips as the Summer was winding down. As most parents know, keeping kids occupied and distracted is key to maintaining one's sanity when hurtling forth in a metal box on wheels for hours on end. Sure, there's always the tried and true road trip games. But after the little ones have grown weary of spying with their little eyes, plan B needs to be initiated. When I was a child, that meant using my imagination by way of doodling.
Magic Sketch Review
What's particularly appealing about the Magic Sketch is its inherently brilliant simplicity. Here are the finer details:
See through screen for tracing
Multi-color screen
7 year battery life
Durable and water resistant
In my own tests, I found the device to be exceptionally lightweight and responsive to input whether with the standard stylus or the other drawing accessories included with the deluxe kit upgrade. The on screen output of whatever you doodle is multicolored as opposed to a single color. There's no way to save your work or means to transfer it to another device. Once you hit the clear screen, your art work is gone. The screen is not back lit so having a decent light source, whether daylight or a reading lamp, is essential. But overall, one can enjoy the immediacy of unfettered doodling. The upgrade kit comes with a protective case, 4 different types of styluses, 60 stencils, and 1 roller with 3 stamps. In short, a perfect go-to option to occupy kids of all ages.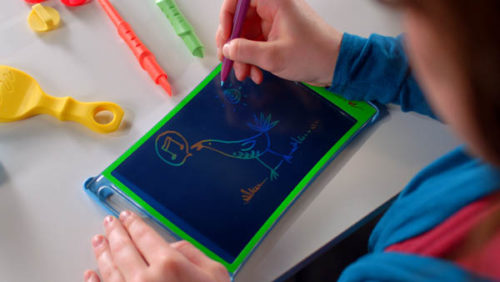 It's currently retailing for $29.95 plus shipping and handling for the Magic Sketch plus upgrade kit on the Boogie Board website.
Overall Grade: B+
Pros: Simple, durable, multi-functional, and versatile.
Cons: No back light. No carrying kit included for loose accessories.
Related
More toys and gadgets!
Be sure to subscribe to our YouTube Channel.
Love podcasts? Catch up and listen to episodes of The CuteMonster Show.
Connect with us on Facebook too!