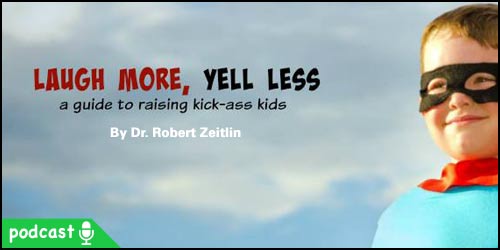 In this episode of the CuteMonster Show I spoke to positive psychologist, Dr. Robert Zeitlin, author of "Laugh More, Yell Less – A guide to Raising Kick-Ass Kids". We spoke about adolescence, middle school, smartphones, social media, parenting styles and an overview of his new book. If you have a newly minted middle school child, you'll want to listen to this highly informative episode.
Highlights from the CuteMonster Show
Find a way to slow down. Step back so you're not making gut decisions.

A parent that wants to maintain some level of control and consistency and stability should view themselves more as the side of the pool that your kid needs to push off against.

Your ultimate goal is to grow an independent person. At some point, the lessons stop and the practicing starts.
Subscribe: Apple Podcasts | Android | Email | Google Play | Stitcher | RSS
Who's Who in this Episode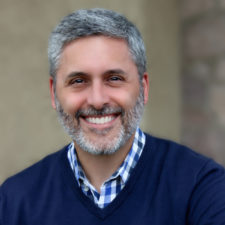 Dr. Robert Zeitlin is a happily married father of two kick-ass kids (18, 21), Positive Psychologist, author of "Laugh More, Yell Less: A Guide to Raising Kick-Ass Kids," and the host of the FB community "Parents Like Us."
In addition to hosting Parents Like Us, Robert works in public schools; consults with parents and does therapy with children and teens in his private practice; and leads small groups of parents and teens to talk about heavy-duty topics like drugs, sex, and suicide for a local non-profit called SpeakUp!.
He formed the parent community on Facebook to create a space for the conversation about parenting that no one else is having. Through Parents Like Us, Robert invites parents to share their insights and learn something new from another mom or dad in our community. "We aren't here just to wallow and complain. Complaining, 'it's really cold!' when you can't change the weather is just an excuse to take no action. Robert states "I would prefer to hear about the hard work you put in yesterday and your aspirations for tomorrow. I hear this real talk about parenting whispered, blurted out over a glass of wine, but not in public. We NEED more open talk about the real side of parenting."
Website:
robertzeitlin.com/do-less-for-your-kids
Book:
robertzeitlin.com/book
Parents Like Us:
https://www.facebook.com/groups/parentslikeusgroup/
Rating and reviewing The CuteMonster Show podcast on iTunes and Stitcher really helps us out. Also, if you like what you've heard, please share this post so that other people can discover The CuteMonster Show! Be sure to catch up with our previous podcast episodes.
Thanks for listening! Connect with us on the CuteMonster Facebook page.