One of the Bear series of children's board books published by Barefoot Books, "Bear at Work", tells a whimsical tale of a day in the life of a postal worker bear living in a small town. Embodied with Debbie Harter's vibrantly rich illustration style as well as Stella Blackstone's playful use of rhyme, this inviting little book easily captivates the attention of young readers.

How's the Story?
Geared towards a preschool audience, the author and illustrator make wonderful use of language and art to provide an engagingly accessible book. I suspect young children can easily find themselves exploring "Bear at Work" independently after reading it a few times along with their parents. Each page contains art work depicting scenes from the town as the postal worker bear makes his rounds throughout the day. I was impressed by the clever use of images to educate young readers in subtle lessons about geometry as well as social skills. There's a particularly poignant image of the postal bear bringing a gift to a young hospitalized bear. It's not blatantly portrayed yet certainly can lead to a discussion between a parent and child about illness as well as acts of benevolence.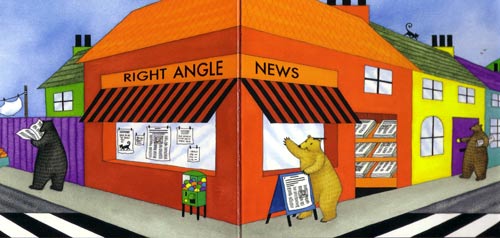 Overall Rating: B+
Pros: Vivid art work. Playful writing. Easily accessible to preschool children. Also makes use of memory skills as well as introducing the concept of job vocations.
Cons: All the scenes and characters in the story seem almost too happy. It's a town without any strife.

For more information about this book and other books published by Barefoot Books, please visit them online.
Also available for purchase from Amazon:
Full Disclosure: I was given a free copy of the book in exchange for this review.