It really is all happening at The Bronx Zoo. Kids of all ages gravitate towards the wildlife park every day to visit thousands of species in one of the United States largest zoos located in the heart of the Bronx in New York City. In the last 11 years there has been a major transformation to the zoo's facilities as well as the habitats of the animals. No longer are some of the larger species enclosed in cages. Instead they've been given room to roam freely (well, almost, don't worry).
At award winning interactive exhibits such as Tiger mountain and the Congo Gorilla Forest you'll be able to get an up close look at these incredible animals through thick glass located throughout the exhibits. The Bronx Zoo has taken a page out of Disney's playbook to make the park more inviting and theme oriented while still maintaining the integrity of the Wildlife Conservation Society's education and conservation mission. This translates into an abundance of gift shops, dining options, and an overall aesthetically pleasing environment to spend a day with the family.
A few highlights to look out for this year: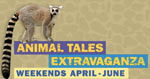 Animal Tales Extravaganza – Weekends from April through June 2011. Activities include guest author readings, animal-themed musical theater and yoga classes, character meet & greets, craft activities and character parades.
For a schedule of upcoming events, click here.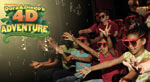 Dora & Diego's 4-D Adventure
A high definition 3-D film with effects such as wind, mist, scents and dramatic lighting.
For more information, click here.
Tips for Parents
Visits during the week tend to be less crowded then the weekends even during the Summer.
Wednesday is free admission with an option to offer a donation of your choice. Please note that since Wednesdays are technically free of charge, many schools opt to visit the Zoo which wreaks havoc on the serenity of one's day.
To avoid long lines, take advantage during early Spring to make a leisurely day at the Bronx Zoo with your family.
If driving to the Bronx Zoo, plan ahead what exhibits you'd like to visit and park in the lot closest to the last exhibit you'll visit that day.
Wear comfortable walking shoes. Expect to walk a lot and take breaks often if visiting with young children. Be aware you'll encounter steep paths at times.
Pack Snacks including box drinks. Given the size of the Zoo, you'll need to stop throughout the day to refuel.
For more information about The Bronx Zoo, click on the link below. Be sure to make use of the Interactive Trip Planner.