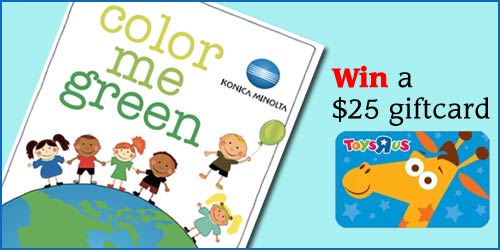 Konica Minolta, a leader in advanced imaging and networking technologies for the desktop to the print shop, recognizes the importance to protect the environment. Teaching children the value of staying green today plants the seeds for a better tomorrow. To celebrate Earth Day, Konica Minolta's providing a free downloadable coloring book and a contest for a lucky young artist to win a $25 Toys R Us gift card.
What You Need to Do
Download the coloring book by clicking the link below. It's a PDF file.
Then print out and start coloring! Have your child select which one he/she thinks is the best page they've colored. Clearly write his/her name and age on the bottom of the page. Scan it. Then send it to the following email address below to enter the contest. That's it!
colormegreen@kmbs.konicaminolta.us
Entries must be received by April 22, 2011. A winner will be announced on April 25, 2011 by Konica Minolta.
For the "Color Me Green" contest official rules, see here.
Good luck!
To learn more about Konica Minolta's commitment to protecting the environment, be sure to visit their environmental section on their company web site.