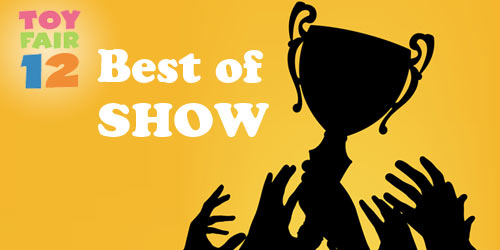 The 2012 New York Toy Fair provided a preview of the upcoming products from a vast array of companies both big and small. Without question there were many items that seemed to be no more than knockoffs of last year's hottest toys or simple tweaks to traditional top selling favorites. Yet as a whole, my colleagues and I who covered the show were pleasantly surprised to discover that innovation is indeed alive and well in the toy industry. The following list represents CuteMonster.com's choices for Best of Show at the 2012 NY Toy Fair.
Best Outdoor Play Toys – Zing Toys
As many parents can attest, the level of sedentary play has increased at an alarming rate with the advent of digital devices such as the Apple iPad, LeapFrog LeapPad and others. Zing has a mission to get kids playing outdoors again with their kid safe assortment of Zing Shots, Z-Curve Bows, Pop Rocketz, ZeeBeez, and more.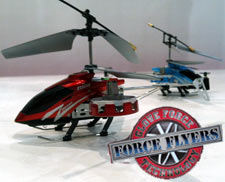 Best RC Toy – Force Flyers
Available April 2012
Regal Elite Inc. and PaulG Toys, LTD unveiled the The Force Flyer, a radio control helicopter boasting numerous innovative features. It is a glove controlled 4 channel helicopter enabling 3D like flight controls such as Up and Down, Left and Right, Spin on Axis, and Lateral Hover Left and Right. It's a toy that will appeal greatly to Dads and kids alike. The Force Flyer is currently in the final stages of development and scheduled for release in April 2012.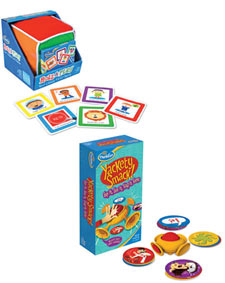 Best Board Games – ThinkFun
Thinkfun has always had a way of blending fun and education into great games. Their new innovative line up promises to continue the tradition. Notable new games for 2012 include the toddler game Roll & Play which gently introduces patterns and rules through game play, and Yackety Smack, a wacky record-your-own sound effects game which would make for a great party game for kids 6 and up.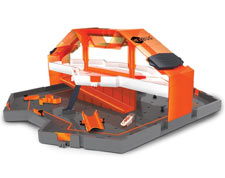 Best High Tech Play Set Toy – Hexbug
With their extendable module play sets such as the new Hive Habitat Set and constantly evolving Hexbug creations, the level of play continues to grow. From their Nano series to the larger remote controlled Scarab, Hexbug has created a product range with a broad appeal. Also in the works is a battle series which will pit Hexbug vs. Hexbug in a battle arena type setting. As with all Hexbug sets, they will be extendable and reconfigurable.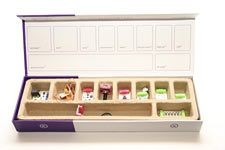 Best High Tech Maker Toy – littleBits
Bloomberg's Sheila Dharmarajan aptly describes LittleBits as the " Legos for the iPad generation." littleBits is an open source library of electronic modules that snap together with tiny magnets for prototyping and play. I could envision their starter kits as must have items for elementary school science labs. littleBits has reinvented the traditional idea of the study of engineering as a stodgy discipline into one fueled by creativity and play.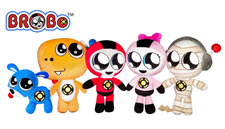 Best Brand Design – Brobo
Brobo is the first brand to be developed by Canadian toy company Keji Inc. These new toys are part of an introduction to Brobo, a small robot with a big heart and his robot friends. The company plans to create an animated series which is currently in the development stage. Yet Brobo and friends have already begun to win an audience for their visual appeal. If the animated series takes off, so will these toys.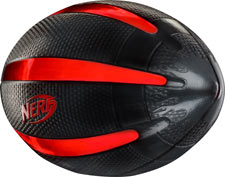 Best Sports Toy – Nerf Firevision Sports Football
Ages 6 years & up/Approximate Retail Price: $19.99/Available: August 1, 2012
Simply put on the Firevision Sports Frames eyewear and turn on the switch to see the glowing effect of the Firevision Sports Football. Kids of all ages will enjoy outdoor play with this new exciting spin on the Nerf football experience. Each set contains one football and two pairs of Firevision Sports Frames eyewear.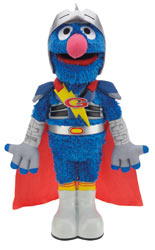 Best Character Doll – Flying Super Grover 2.0
PLAYSKOOL/Ages 2-5 years/Approx. Retail Price: $29.99/Available: Fall 2012
It's Super Grover! What's NOT to love. Add in the new sound effects, the rising arms while flying, etc. and this may be a toy that's high on the list for Holiday shopping season in 2012. See Video of Grover taking flight.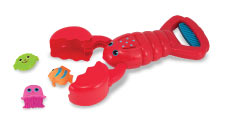 Best Pool Toy – Melissa & Doug Louie Lobster Claw Catcher
Retail Price: $12.99 Ages: 5+ years Available March 2012
Melissa & Doug bring their creative magic to the swimming pool. Louie Lobster Claw Catcher allows kids to grab three colorful fishy sinkers before they sink to the bottom. It's a simple, compelling idea packaged in a fun form which kids will love to play both in the pool and bathtub as well.