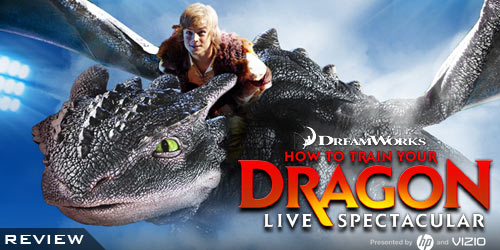 When I was asked to review the DreamWorks "How To Train Your Dragon" Live Spectacular, I couldn't have been more excited. Having reviewed and appreciated the animated feature film, I eagerly anticipated the chance to see these fantastic creatures come to life in a more tangible way than any 3D movie could ever offer. The big question remained how successfully the live show creative team would be able to adapt the many exhilarating dragon flying sequences into an arena venue.
How's the show?
If you've seen the movie, then you'll be well prepared to see the show. In fact, I'd strongly recommend seeing the movie first because there are many elements to the live show which audiences might find confusing without prior knowledge of the story.
Making use of technical wizardry, images are projected across the back of the arena to provide a sense of place as well as give life to flowing action sequences. From the moment the dragons enter the arena you'll be hooked into the show. The jaw-droppingly amazing creatures thrilled kids of all ages. If you ever wanted to see a real dragon in person, your wish has been granted.
As for the live performers, the actors all gave solid performances but the sheer size of the space inevitably diminished their characters. As such, the audience does not have the same emotional connection with them as they would have watching the movie. Without question, the focus of How To Train Your Dragon Live Spectacular is getting up close with Dragons which for most audience members will offer a compelling experience worth the price of admission.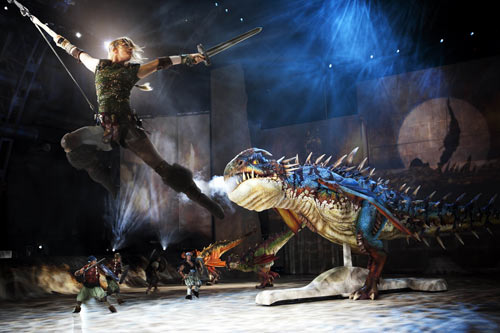 How are the special effects?
Global Creatures, the masterminds behind Walking with Dinosaurs, and the DreamWorks creative team, combine their artistic talents to transport audiences into a world where dragons truly exist. If your kids loved the movie, then be prepared for wide-eyed happy faces as they scream with delight when Toothless the Night Fury takes flight.
Overall Grade: B+
Recommended for children ages 3 and up who've seen the movie.
Pros: Spectacular Fire-Breathing Dragons. Flying Sequences.
Cons: Lose some of the human element to the story.
Watch the official video trailer for the show:
Show Information:
Visit DreamWorks How To Train Your Dragon Live Spectacular for show details and ticket buying information.
Get 25% off weekday performances including Friday nights with code MOM at Ticketmaster.com