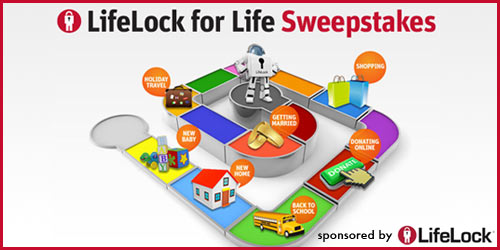 Recently, we informed our readers that CuteMonster.com has become a LifeLock Brand Ambassador. We've just received word that this month, LifeLock kicks off a fun new way to educate the public about identity theft protection as well as the chance to win great prizes.
LifeLock, a leader in identity theft protection, presents the LifeLock for Life Sweepstakes on Facebook. Players will be asked a series of 10 multiple choice questions per week related to helping protect your identity for a chance to win weekly and monthly prizes.
Each month, questions will be centered around specific life events, such as purchasing a new home, donating online, and protecting yourself while shopping online. Prizes will include Visa gift cards, LifeLock memberships, and family vacations. The first topic for September will include key questions relating to back to school.
To play, you'll need to "Like" LifeLock's Facebook Page. Then visit the LifeLock for Life Sweepstakes tab. The first topic will include key questions related to Back To School. Good luck!