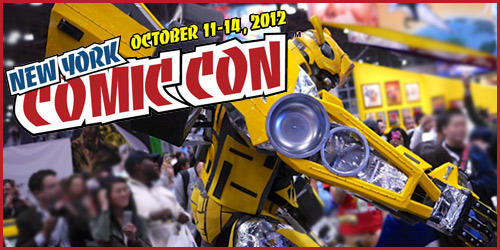 The 2012 New York Comic Con has beckoned the popular culture masses and they responded in droves. In my second year of coverage of the convention, my initial impression of the event was simply "whoa!" It was like an overwhelming palpable wave of energy had swept through the cavernous halls of the venerable Jacob Javits Convention Center. Music was blaring, cosplayers were out in force with intricately detailed costumes. as well as the endless hordes of vendors and exhibitors all working in concert to impart the attendees with an unforgettable experience.
What I especially enjoy about the New York Comic Con is getting the opportunity to meet with artists from different mediums including writers, comic book artists , digital media wizards, master craftsman, and toy makers. Whether the interactions occur by way of informative discussion panels or by striking up conversations on the convention floor, you'll always end learning something invaluable.
I also like discovering new artists. There's an infinite array of artistic styles that share the convention floor. More times than not, you'll end up stumbling upon your newfound treasure. Such was the case with a small independent toy maker called Vamplets. Their tiny booth was decorated in late 19th century manner with a decidedly haunted twist. Strewn about the booth were soft plush toys of baby monsters. I suspect they'll have no problem finding homes.
Below are a few images from the 2012 New York Comic Con. Please visit our Facebook page to see numerous more. You can "like" us while you're their to stay connected.
Did you attend the 2012 New York Comic Con? What did you think?