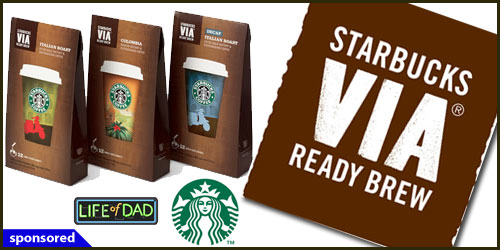 Being a parent can be challenging. Time has a way of speeding up if you don't put on the brakes from time to time to take it all in. That's the idea behind the Starbucks VIA Moment video contest which I was asked to promote by my friends over at Life of Dad. Dads are encouraged to create Vine or Instagram videos, highlighting a "#VIA Moment" that focuses on a time when at a moment's notice, a dad might really need a sastifying cup of coffee.
To create my video, I enlisted top notch talent (aka my kids) asking them to do what they do best, play. Here's my Starbucks #VIA Moment:
Now it's your Turn!
Check out the other #VIA Moment videos. If you feel you have a VIA Moment of your own to share, join the contest!
You can win a $500 Starbucks Card for first place (or $200 card for second place, or $100 card for third place)!
Disclosure: In conjunction with Starbucks and LifeOfDad.com. I was provided with sample packets of Starbucks VIA®, and received compensation for participating in this promotion. All opinions are my own.