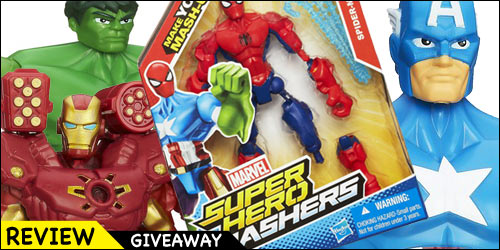 Hasbro recently sent me a pair of Marvel Super Hero Mashers to review. Being a kid at heart, naturally I couldn't wait to tear open the box to play with review the toys. Yet demonstrating a modicum of restraint, I let my 7 year old son have the honor. These new toy action figures from Hasbro, aptly called Mashers, allow for a child (and kids at heart) to switch parts (heads, arms, and legs as well as accessories) in order to create a new hero. Read on for my review as well as the chance to win your very own Marvel Super Hero Masher from Hasbro.
How's the fun factor for these toys?
The process of connecting and disconnecting parts is refreshingly straightforward. The articulation of the figures can be described much better than expected given the variety of parts from figure to figure. The only minor trouble spot would be disconnecting and reconnecting the heads. With a little patience it can be accomplished fairly painlessly but expect a request from your kids to help out from time to time. In observing my official toy tester aka my son, I noticed he created new adventures each time he mashed up the action figures. That's a huge plus and a great return on investment for parents.
How can I win my own Marvel Super Hero Masher?
Glad you asked. Just use the Rafflecopter entry form bellow to enter for your chance to win. But do it soon since the giveaway ends March 2, 2014 at 11:59pm. Good luck!