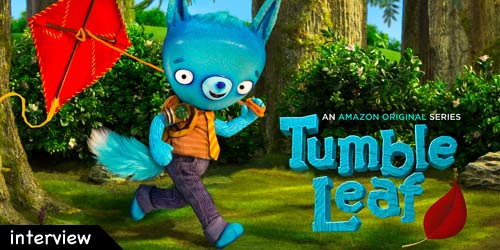 Amazon Studios has embarked on a new journey introducing original kids series for members of its Amazon Prime Instant Video. CuteMonster.com had the privilege to preview several of the upcoming kids series including "Tumble Leaf". I recently spoke by phone with Kelli Bixler, Co-Creator and Executive Producer of the new original Amazon Studios kids series "Tumble Leaf", to find out details behind the creation of the show as well as what hopes and aspirations she, co-creator Drew Hodges and Educational Psychologist and Advisor Dr. Alice Wilder have for the millions of pre-schoolers and parents who'll watch "Tumble Leaf".
Interview with Kelli Bixler, Co-Creator and Executive Producer of "Tumble Leaf", an Amazon Studios Kid Series
Kelli: Hi Vincent!
Vincent: Good Morning Kelli. I appreciate you waking up bright and early this morning for the interview.
Kelli: Oh, that's quite alright. I'm an early riser
Vincent: Excellent, excellent…I am not.
Kelli: (laughs)I know it's a thing of either you are or you aren't. But I envy you because you're probably a late nighter.
Vincent: Yes. Yes indeed. Well let's get straight to the questions. What's the origin of "Tumble Leaf"? Can you take me back to how the show began…how it actually originated?
Kelli:
Sure. It started in 2007 actually. My colleague, Andrew Hodges, came to Bix Pix in 2002 right after college. He was a fresh kid with a lot of talent. In 2007 we had just finished a long project and we wanted to create new content and go out and pitch and do our own stuff. We wanted to do something with children but it really did stem from creating a character and doing something completely different for kids then what we had seen out there. Making a rich world, a great character, and just doing it slightly different then what everyone else was doing. That was important to us. But most importantly, it was clear right away that we wanted to do something that didn't talk down to kids. We have little kids coming to our studio a lot and at a very young age you see kids come equipped with their own lovely intelligence and wonder. We thought we should actually take a lesson from them and go into their world.
Vincent: Nice. Can you tell me about the choice of your main characters in Tumble Leaf including the specific choice of colors that identify the mani characters?
Kelli: Interestingly, at first Fig the Fox was a blue boy. But he was too odd looking for everyone we pitched the show to in 2008, 2009, and 2010. So in 2010 we actually said "Okay, you're all right!" and decided to go in a different direction. We actually just wanted to make it cute and cuddly without being precious. We thought the best way to do that was really place the characters in the animal world. That would free us up in a lot of ways. Fig has always been blue as a boy or as a fox. I don't know why. That's probably a question for Drew Hodges. I know I loved it because it was different. You con't see blue foxes out there in the real world and that sort of is kind of the essence of Tumble Leaf. Even though it certainly reflects the real world, Tumble Leaf is a world all to itself where many things are fantastical, surprising and lovely.
Vincent: The world of Tumble Leaf is a magical place. Is the world based on an extension of a child's imagination much like you'd find in the children's book "Where the Wild Things Are"?
Kelli: I think so. I think it's coming from how every kid plays. For example, they pick up a log and give it a name and it's their puppy for the day. I certainly had a great imagination as a kid and I know Drew did too. Just watching kids play, they use what's around them and just go for it. We both loved the great story and the film "Where the Wild Things Are" so it might be in there subconsciously but I think for the most part it really isn't something we created in our imagination, it's just really what is out there already in nature but with a twist. if you go into our real world there are incredible species in nature and fabulous trees and mountains and movement. We kind of wanted to bring that out. I think we've started to attempt to do that and that's the whole point. In one episode, Fig has to save a character who's surrounded by water. He goes to find giant mushrooms which act like sponges but along the way he finds these bell flowers. it was interesting because I was at one of our internal meetings and I said to the art director "that design is just so unusual". And Drew goes, "that's a real flower", and then shows me a actual picture of it. So real stuff does inspire us!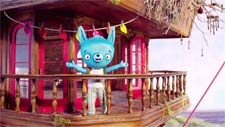 Vincent: Tell me this. it was a little bit of a mystery to me. I wonder if there is a story behind it. How does Fig end up living on an abandoned ship? What's the backstory behind that?
Kelli: (laughing) There isn't one! But we joke that the apocalypse has happened and chickens and foxes can now live in peace together. But no, there's no real story there. That's for season five.
Vincent: Good enough. in the episodes I had the pleasure of watching, Fig seems to be a natural born Explorer. Will each show revolve around Fig discovering something new in the finding place? is that basically the starting point for each episode?
Kelli: Yes, that really is the starting point. We thought it had great mystery. When Fig swings that door open it's an excited anticipation kind of moment. Like the feeling I get when I'm in a movie theater right before the movie starts. That's sort of the idea in Tumbleleaf, Fig finds something and he wants to go play with it. Through playing he actually learns a thing or two about the object and also about his world and its relationship.
Vincent: What made you decide to use stop motion animation rather than opting for a more traditional route of 2D or CGI for that matter.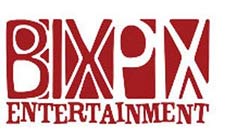 Kelli: Probably because I have a stop motion animation studio and that's what we do. And I think stop motion animation has gotten a bum rap in the last 20 years. It's an art form yet I don't think researchers have given it a fair shake of any kind. There is a different visceral quality and relationship to a viewer watching stop motion animation then CGI. They're just different. They are apples and oranges. in the last 5 years, technology has made it so that stop motion can be very similar in look and feel to CGI which I find troubling because I love the fact it's not CGI, it's not slick, it's created by human hands, one frame at a time. Everything is handmade even down to the little zipper and stitching on Fig's backpack. it's an art form you are watching just like feature film making. it's a different feeling when you watch stop motion. I think it makes it a little more tangible and sort of magical in a way because their shadows are real, and it's a thing that does exist. It's not inside of a computer. I'm biased because I have a stop animation company (laughs), but I think we're in a good place with this series because it's going to surprise people on how exciting stop motion animation can be. We wanted to give kids an artistic taste of visual excitement more like a feature film is shot. It's very cinematic in that quality. We thought it was important to give little eyes sophisticated things to look at so they could grow up appreciating art.
Vincent: Final question. The show is geared towards pre-schoolers. What do you hope boys and girls ultimately take away from Tumble Leaf?
Kelli: I think wonder and play and asking questions. Being excited about something you don't know about. It's a great question and we've talked about it a lot. I think I want them to see the beauty of the show and go out into the world and discover the world's beauty.
Vincent: Fantastic. Good luck with the show!
Kelli: Thank you.
Watch the intro to Tumble Leaf