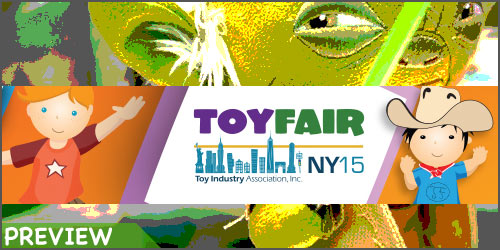 It's simply amazing how quickly a year races by but race by it did. The 2015 New York Toy Fair at the Jacob Javits Center opens on Valentine's Day this year which suits toy lovers just fine. The anticipation has grown to a fever pitch as toy vendors make last minute preparations to ensure a successful debut at the Toy Industry's premiere showcase event. For members of the media, the New York Toy Fair transforms into the biggest toy store in the world. For me, the allure lies in seeking out innovation at its finest.
Over the past 5 years the integration of technology has been embraced by the toy industry. 21st century kids have grown to expect a certain level of interactivity with their toys. In addition, toy related applications developed for smartphones and tablets further enhance a digital lifestyle. In truth, the New York Toy Fair has evolved to represent the Technology industry as well. Yet happily, there's still room for non-tech toys and riding vehicles built to get kids moving.
My hope for this year's Toy Fair is to discover a relatively unknown toy maker that pushes the envelope for innovation coupled with fun. After all, toys should capture the imagination and make the heart soar. Studies have shown play matters for kids of all ages. The memories made in one's childhood have a profound lifelong impact. Oddly enough, the inherently creative world of the toy industry turns out to be serious business. And that's fine with us too. The CuteMonster.com team will be reporting highlights of the show. I hope you'll join us.
What was your favorite toy when you were a kid?
Check out our compilation of images from the 2014 New York Toy Fair.
Be sure to connect with us on Facebook to join the CuteMonster.com community. Prefer email? Sign up for our free newsletter!