I discovered Monster Factory based on recommendations from colleagues involved with Toy design and puppetry. I'm glad I took their advice. With a roster of uniquely designed plush monster character toys as well as a line of monster themed kids clothing, Monster Factory offers a variety of choices. They've also produced original comedy video shorts which follow the antics of Monster Factory characters as high school students. Monster Factory provided me with one of their monster character plush dolls, Andy, to review. In addition, one lucky reader will get the chance to win an Andy plush doll to call their very own.
Andy Arrives
I had informed my children of Andy's impending arrival with the following description as per Monster Factory:
Andy is Sebastian's younger brother. He never misses an opportunity to act out scenes from his favourite movie' in detail' with sound effects.
Yet I never actually showed any images to them of the plush doll as I wanted to get a genuine first impression based on the doll itself. The package arrived and both kids were bursting with anticipation. They ripped open the box, removed Andy from his protective bag and…"What's that!" asked my perplexed 4 year old. My 2 year old then picked Andy up, quickly investigated his cute yet stoic expression, then dropped him while running full speed into the other room screaming "Nooooo!" Suffice it to say, Andy had a rough first day. Yet he soon found a place among the other plush dolls.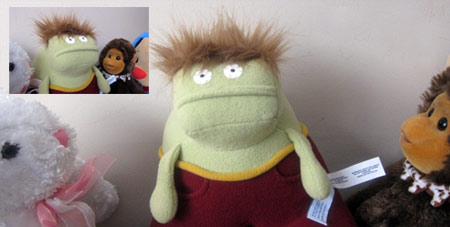 As I suspected, Andy's appeal directly correlates with awareness of the character. For example, if Bart Simpson dolls had been released to the public prior to the animated series ever being seen, buyers would most likely have shown little interest. Once the character was well placed in the public's mind, fans couldn't get enough of Bart Simpson merchandise. I sense such will be the case with the Monster Factory character toys. They initially will have an appeal to fans of uniquely designed toys with an edge. Broad appeal will have to wait based on the success of the video shorts. Monster Factory's currently trying to get the web episodes produced into a television series.
Is it a quality toy?
From a pure quality standpoint, the Andy plush doll is well crafted. Soft fabric, quality stitching, distinct design and more provide a clear indication Monster Factory sought to produce a durable product. Even without a previous introduction to the character, children will quickly take a liking to the doll creating their own adventures for him.

And now the Giveaway
Monster Factory has graciously provided an opportunity for one lucky CuteMonster.com reader to win an Andy plush doll of their own. A retail value of $40.
How to Enter
Simply enter a brief comment below about why you'd like to win! That's it.
For extra entries do the following:
Important Dates and Details to remember
Contest open to Canadian and U.S. residents. The contest ends at 11:59pm EST on Sunday, February 20, 2011. The winner will be notified via email or twitter by Monday February 21, 2011. The winner has 24 hours to respond after notification. If no response is made another winner will be randomly drawn.
Good luck!
Watch the video below of Andy featured in a Monster Factory original comedy short. Please note that it's high school humor. PG rating.