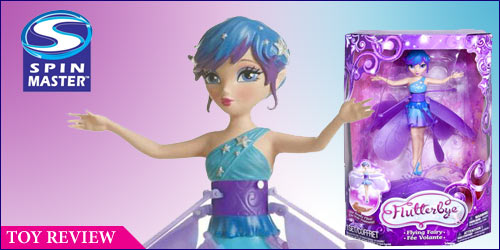 Spin Master, the toy company behind the creation of the popular Air Hogs flying toys brand, has always been interested in discovering news ways to introduce fun electronic adventure toys for kids. CuteMonster.com was recently sent Spin Master's latest creation to review, specifically the FlutterBye. It's a Flying Fairy toy geared towards girls ages 5 and up. FlutterBye is designed to fly upwards and hover above the extended hand of a child as the flying fairy moves across an open room. In essence, FlutterBye had the potential to be a fantastic toy. I couldn't wait to test it out.
Does FlutterBye bring the fun?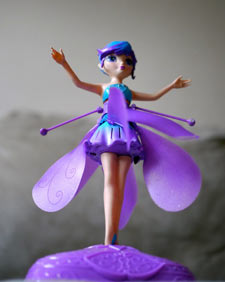 In conjunction with one of CuteMonster Headquarters toy experts aka my 5 year old daughter, we put FlutterBye through the gauntlet. Assembly is fairly straightforward requiring placing six AA batteries in the base controller. The FlutterBye toy itself (we received Stardust, the blue haired version) is nicely crafted and visually appealing. After a 30 minute charge we were ready for a test flight. You can launch FlutterBye in two ways, from the base controller with FlutterBye perched or by holding FlutterBye by her feet, pressing the launch button on the base controller and releasing her. I was a bit surprised at how loud the toy was in flight. Best to use FlutterBye when no one in the family is trying to sleep. Getting the hang of how to make FlutterBye hover over one's hand in a somewhat controlled fashion took some practice but it was fun trying. Successfully playing with FlutterBye requires a large, open clutter-free room. While focused on keeping up with FlutterBye my daughter and I inadvertently stumbled more than a few times on random objects strewn across the floor. Perhaps the instructions for FlutterBye should include "creating a space for magical flight." Imagine that, a toy that requires kids to clean their room. Thanks FlutterBye. Available now for MSRP $34.99
Overall Grade: B+
Recommended for kids ages 5 and up.
Pros: Easy assembly. Durable. Wings can pop off upon impact but are easy to re-attach. Gets kids moving. Girls and Boys enjoy the toy.
Cons: Tricky to navigate at first. Charge lasts a relatively short time.
Find FlutterBye Fairy here at Amazon.
Watch 5 Year Old take FlutterBye for a 1st Test Flight