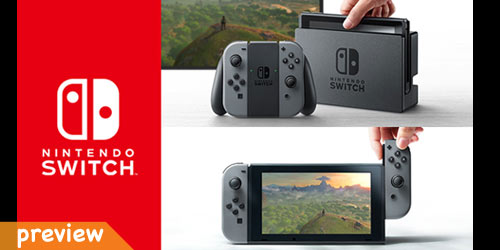 A lot of exciting news about the Nintendo Switch hybrid console was recently revealed. It will be released March 3, 2017. Expect to pay MSRP of $299.99 for the system. There are at least 80 games in development. Hardware details regarding technical specifications have been revealed on Nintendo's website. Anticipation for the new system continues to rise.
Nintendo Switch Highlights – Everything You Need To Know
Joy-con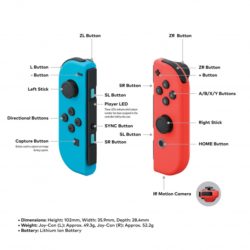 The right detachable controller contains a near-field reader to read and write amiibo data. Also, the same controller has an infra-red sensor capable of detecting hand gestures. Both controllers have Wii-style motion sensors, so you can use them independently to play a game.
The Joy-con has a new "HD" rumble feature that can more closely simulate things like ice moving around in a glass. The IR sensor detects shape, depth, and movement.
Both controllers can be used independently. These individual, miniature joypads are fully-featured, with tiny shoulder buttons.
Additional controllers will be purchasable in two different colors – neon red and neon blue.
Similar to the Wii's remote, there are straps that slide onto the side of each controller, so you can tether them to your wrists. The straps also have shoulder buttons mounted on their base.
Online Support
Online lobby and voice chat – Invite friends to play online, set play appointments, and chat with friends during online matches in compatible games─all from your smart device. A free, limited version of this app will be available for download in summer 2017.
Monthly game download – Subscribers will get to download and play a NES or SNES game with newly-added online play for free for a month.
Exclusive deals – Special offers for subscribers may include discounts on select digital games and content.
Battery Life
According to Nintendo, expect 6 hours for normal gameplay with more graphic intensive games such as the upcoming Zelda: Breath of the Wild reducing that duration to about 3 hours.
Games – Video Previews
Nintendo Treehouse Live with Nintendo Switch – Live Stream

Confirmed Switch Games
The Legend of Zelda: Breath of the Wild (March 3)

Just Dance 2017 (March 3)
Super Bomberman R (March 3) 

Skylanders Imaginators (March 3)
Fast RMX (March)
Has Been Heroes (March)

I Am Setsuna (March)
Snipperclips (March)
Yooka-Laylee (April 11)
Mario Kart 8 Deluxe (April 28)
ARMS (Spring)
Pyou Pyou Tetris S (Spring)
Rime (Summer)
Splatoon 2 (Summer)

Skyrim: Special Edition (Fall 2017)

Super Mario Odyssey (Holiday 2017)

Disagea 5 (2017)

FIFA (2017)
Minecraft: Switch Edition (2017)

NBA 2K (2017)


Sonic Mania (2017)
Steep (2017)
Ultra Street Fighter II: The Final Challengers (2017)
Xenoblade Chronicles 2 (2017)

Arcade Archives

Constructor HD

Cube Life: Island Survival HD

Dragonball Xenoverse 2
Dragon Quest 10
Dragon Quest 11

Dragon Quest Heroes 1-2

Dungeon of Zaar

Farming Simulator
Fire Emblem Warriors

Lego City Undercover

Minecraft Story Mode – The Complete Adventure

Monster Boy and the Cursed Kingdom

Nobunaga's Ambition

Oceanhorn: Monster of Uncharted Seas
Project Octopath Traveler

Project Sonic 2017
Rayman Legends: Definitive Edition
Redout 

Rise: Race the Future

Riverside

Seasons of Heaven

Shovel Knight: Treasure Trove

Shin Megami Tensei

Stardew Valley
Suda 51 Game
 (No More Heroes)
Syberia 3

Tank it! 

Terraria
The Binding of Isaac Afterbirth +

The Secret Hero
Pre-Order Availability
You've got a multitude of options:
• Amazon: Pre-order in Grey for $299.99
• GameStop US: Pre-order in Grey for $299.99 |Pre-order in Neon Red/Neon Blue for $299.99
Expect Target, Walmart, BestBuy and other retailers to announce availability soon.