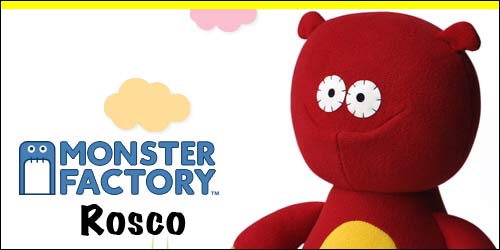 When the good folks at Monster Factory, makers of uniquely designed monster themed plush doll toys and clothing, told me they were adding a new fun plush doll to their lineup I was intrigued. Having reviewed Andy, one of their previous monster plush doll character releases, I knew at the very least, it would be a creative toy. I asked them to send me the this mystery plush doll for review even though I was not given the name of the character nor was any information available on their web site because he was so new. In addition, Monster Factory told me a lucky reader of this review will have the chance to win one to call their very own. Cool.
Meet Rosco
There's nothing quite like receiving a package of a toy when its contents are a mystery. I had my trusty co-reviewer with me, namely my 3 year old daughter, who specializes in blatant honesty when evaluating just about anything under the Sun. For example, like the first time I made chocolate chip cookies "Bleah! These are so yucky Daddy. They taste like dirty rocks. Are these dirty rock cookies Daddy?" It should be noted that although it was body blow to my ego, I've since bounced back and have become the go-to-guy in my home for freshly baked cookies. But I digress. The package had arrived and we were both eagerly anticipating the mystery Monster Factory plush doll being revealed.
I asked my co-reviewer to open the shipping box and she did much like the Hulk might rip apart a phone book. The box stood little chance of remaining intact. With the Sun shining through the window a stream of light illuminated the box's contents. It was a rich shade of red with a hint of yellow which instantly stopped my little Hulk in her tracks and prompted her to respond with glee "What's that?!!!" She pulled off the plastic covering of the plush doll and said "So cute. It's a dinosaur Daddy!" Gave it a quick squeeze then put the doll next to the Andy plush doll I mentioned previously. I guessed that meant it was a newly accepted member of the plush doll family. I took a look at the attached identification card and read that he's actually a monster named Rosco.
As per the Monster Factory description:
Never far from the center of attention, Rosco can charitably be described as "spirited."
One can guess this little monster will be featured in future adventures be it live action video or animation.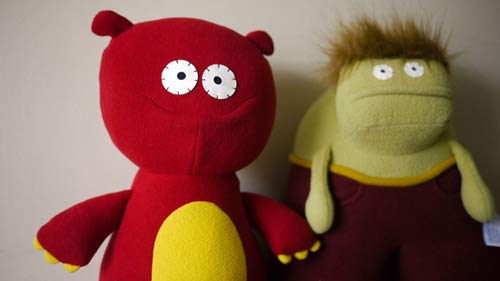 Is it a quality toy?
The soft well crafted materials are instantly recognizable when handling the Rosco doll. From the texture of the cloth to the attention to detail in the stitching, Monster Factory continues to manufacture engaging durable plush dolls. The design can be described as whimsical with an originality that will appeal to kids of all ages. It's not a stretch of the imagination to think that adults would start a collection of these dolls for themselves. They're a lot of fun.
The Giveaway
Monster Factory has graciously provided an opportunity for one lucky CuteMonster.com reader to win a Rosco plush doll of their own. A retail value of $35.
How to Enter
Simply enter a brief comment below about why you'd like to win! That's it.
For extra entries do the following:
Follow CuteMonster.com on Facebook
Follow Monster Factory on Facebook
On Twitter tweet:
I want to win a @_monsterfactory Rosco doll from @CuteMonsterDad bit.ly/IxgHtd
Important Dates and Details to remember
Contest open to Canadian and U.S. residents. The contest ends at 11:59pm EST on Thursday, May 3, 2012. The winner will be notified via email or twitter by Friday May 4, 2012. The winner has 24 hours to respond after notification. If no response is made another winner will be randomly drawn.
Good luck!
UPDATE: We have a winner! Congratulations to Andrew W. Thanks to everyone who entered. And thanks to Monster Factory for providing a memorable prize.