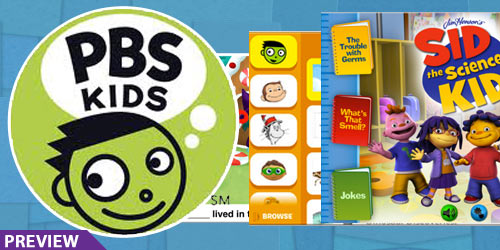 The PBS Kids mobile division has always been a prolific bunch. What's particularly impressive is their dedication to provide both free and paid educational kids apps on a consistent basis. Here's a quick overview of their latest offerings.
Free Apps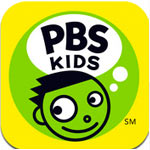 PBS Kids Video
When traveling, it's comforting as a parent to have access to quality educational videos to provide a needed distraction for the kids while you tend to various aspects of the journey. With the PBS Kids Video app, you'll have more than 1000 videos to choose from from top PBS Kids and PBS Go! television series such as Dinosaur Train, SUPER WHY!, Sesame Street and more. Ages 3 and up. Available for iPad, iPhone, iPod Touch.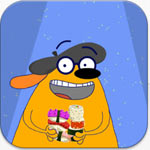 Fetch! Lunch Rush
Generally speaking, kids love playing with numbers. Yet selling them on the fun of math is not always easy. Enter Ruff Ruffman, canine host of the PBS Kids TV series, FETCH with Ruff Ruffman. in the Fetch! Lunch Rush app, kids are tasked in this multiplayer game to keep up with the lunch orders from Ruff's movie crew. From an educational standpoint, the app was designed to supplement national standards for first and second grade math. Ages 6 and up. Available for iPhone, iPod Touch.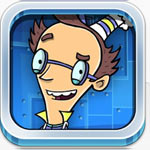 Fizzy's Lunch Lab: Fresh Pick
Nothing like a little healthy competition to motivate kids to play. Professor Fizzy, star of the PBS KIDS web series "Fizzy's Lunch Lab" sets up a challenge for players to be the next Lunch Labber. Making use of math and problem solving skills, kids will need to shop at a grocery store, be mindful of of their money at the check out line, and effectively serve customers at the Lunch lab to become the next member of the Lunch Lab team. Ages 6 and up. Available for the iPad, Nook, Android Tablet, Kindle Tablet.
Paid Apps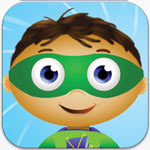 Super Why!
Writing, letter recognition and reading all play a central role in the PBS KIDS series Super Why! Naturally the Super WHY! app builds on this premise by providing 4 interactive games to build on this premise by focusing on each character's special power. Alpha Pig's game focuses on letters. Princess Presto works with writing. Wonder Red takes to Rhyming. And Super Why hones in on reading. Ages 3 and up. Available for iPhone, iPod touch, iPad, Android Phone and Tablet, Kindle Tablet, Nook Tablet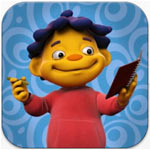 Sid the Science Kid Read & Play
Sid, like most kids, is a born explorer. He's curious about how the world works. This app includes storiess and interactive activities to inspire kids to pursue their own scientific exploration. They'll be able to spot the difference, color, sing along, and more. Ages 3 and up. Available for iPhone, iPod Touch, iPad.