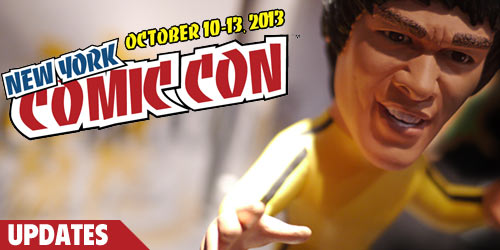 We'll be at the 2013 New York Comic Con all week. Check back here often for updates as we make our way through the gloriously pop culture filled labyrinth also know as the Jacob Javits Convention Center.
Thursday October 10, 2013
Happy NY Comic Con attendees filed into the convention hall when the doors officially opened at 3pm. Cosplayers arrived in force too adding to the feeling of pop culture celebration.
In the early afternoon we were able to spirit away and trek over to Times Square for the Skylanders SWAPtoberfest. James Marsden ("Anchorman 2", "X-Men" "X-Men 2") and Zachary Gordon (Diary of a Wimpy Kid) joined Skylanders costumed characters, kids, teens, parents and video game fans at the event. Check out the images on our
facebook pag
e There was plenty to see at the New York Comic Con. In fact, it was quite overwhelming in scope. Too much for one day in any case. So we decided we'd take our time walking the floor of the convention in order to discover hidden gems. Check out our photo gallery from day one on our
Facebook page
.
Friday October 11, 2013
Day 2 of the Con was all about searching for the best action figures and collectable toys. As expected, the choices really are subjective. Nonetheless, we've put together an image gallery of what we deemed to be the best of the best. Check out Day 2 – Action Figures.
Below is a live stream from the 2013 New York Comic Con (Flash Player Required):