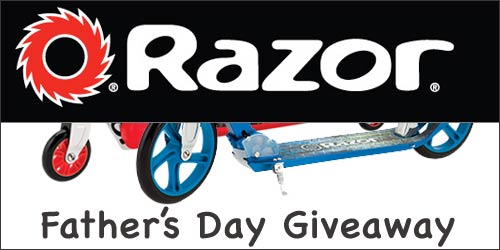 Father's Day offers the opportunity to reflect on what's truly important in the life of a Dad. Being a Dad may well be one of the most challenging yet rewarding jobs a man will ever undertake in his lifetime. Yet parenthood often means putting the welfare of one's family first. As noble a premise as that may be, the result often translates into men letting their own health fall by the wayside. We here at CuteMonster.com are on a mission to reverse that trend. That's why we've partnered with a phenomenal company like Razor, creator of a wide range of scooters and action oriented rides, to provide a combo giveaway of both the exciting new RIFT scooter and the popular Razor A5 Lux scooter. Two great rides built for years of outdoor fun.
Below is a product description of the kid oriented RIFT and the more adult sized A5 Lux: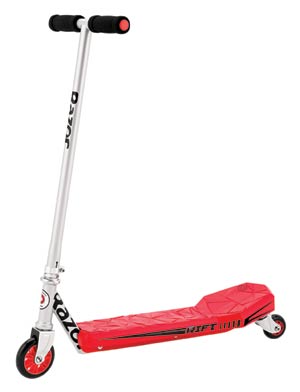 The Rift scooter is a fresh take on a two-wheel scooter, for an exciting new ride with side to side carving action. Ride like a scooter, carve through corners, or drift like a pro with the 360-degree rear inclined caster wheel. The bright red Traction Deck features intense texturing and contouring for non-slip grip.
Ages: 8 and up (up to 143 pounds) MSRP: $69.99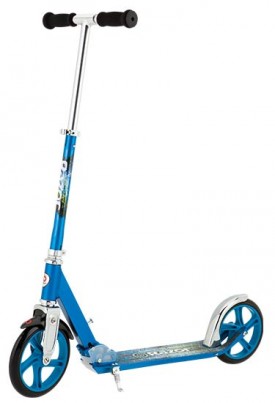 With its extra-large urethane wheels, the A5 Lux is the smoothest ride around. Easy to fold and ready to go, the A5 has a super strong aluminum t-tube and deck to comfortably support riders up to 220 lbs MSRP $109.99
What's especially appealing about these two fun rides is their portability. A Dad could just fold both scooters up and place them in the trunk of the car for a versatile anytime activity. The Razor A5 Lux could easily also double as a useful time saving means of commuting to the office from public transportation. In some cases, the Razor A5 Lux could even replace public transportation.
And You Can Win Them Both
Simply use the Rafflecopter entry form below for your chance to win both the new Razor RIFT as well as the Razor A5 Lux (total retail value of approximately $180). Good luck and have a Happy Father's Day everyone!