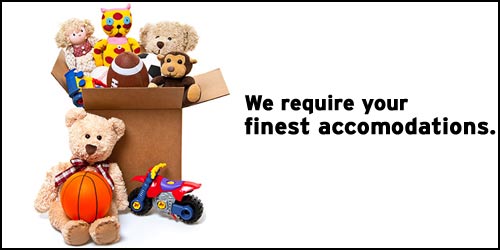 You've waded through the growing pile of children's toys in your home. Much like a bizzaro Santa Claus, you've entertained the idea of reclaiming your space by removing the whole lot. Yet, deep down, you recognize the long term trauma that would result from completely giving into your impulse. And yet, doing nothing will not solve the problem either. Enter Tom's of Maine and TerraCycle with their #LessWasteChallenge to the rescue.
"Parents are able to donate toys, but there hasn't been a way to keep broken or incomplete toys and games out of the landfill until now," said TerraCycle CEO Tom Szaky. "With the Toy Recycling Boxes, Tom's of Maine and TerraCycle® are tackling one of the last frontiers of recycling and giving environmentally-minded parents a solution they can feel good about."
Here's how it works:
Get your free shipping label. (one label per person)
Fill a box with up to 10 pounds of toys to recycle.
Send Tom's of Maine your box of toys to recycle using your free shipping label.
The complete list of toys that can be recycled includes:
dolls
discarded toys or toy pieces
cards
dice
game boards
packaging from board games
books with sound
handheld electronic games and players
remote control vehicles
electronic stuffed animals
baby toys
building sets
stuffed animals
puzzle pieces
game pieces
action figures
Overall, it's an easy way to help diminish the impact of toys piling up in landfills across the United States. Taking preventive measures will also go a long way to solving the clutter problem in households. Truly, less is more.
What do you think? What steps have you taken to lessen the environmental footprint of toys? How can parents avoid the pitfalls of becoming too sentimental about their children's toys? How can we lessen the impulse to purchase new toys as birthdays and holidays approach?