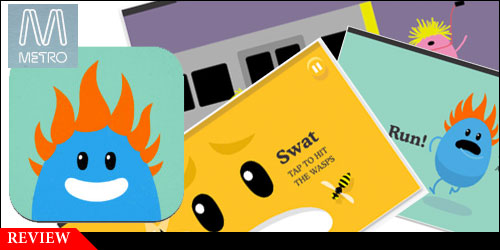 Making an app about dumb ways to die might seem to be a losing proposition. Yet the good folks at Metro Trains Melbourne Pty Ltd have created a vibrantly colorful world of dumb characters who find themselves in precarious situations. It's your job as the player to keep them out of harm's way. Coupled with a catchy, instantly memorable music video ( over 48 million views on youtube), this free app is sure to educate the masses with a wink and a smile.
How's the Gameplay
The main purpose behind Dumb Ways to Die is to instill the concept of safety in a fun way rather than being force fed information as often found in the typical public service announcement. The game play consists of rapid fire, quick thinking games in which you must save players from harm's way. Here's a breakdown from the developer of what to expect:
Why is his hair on fire? Who cares, just RUN!

Quickly wipe your screen free of puke

Balance that wobbling glue eater
Flick the piranhas out of range of those precious private parts

Swat wasps before it's too late

Best not invite that psycho killer inside
- Carefully remove forks from toasters

Help self-taught pilots

Get back from the edge of the platform you fools

Have patience at level crossings

No crossing the tracks! Not even for balloons!

And who knew rattlesnakes were so picky about mustard?
Overall Rating: B+
Recommended for ages 9 and older.
Pros: Easily playable, quick action fun.
Cons: Games can be too quick for some.
Hardware Requirements:
Compatible with iPhone 3GS, iPhone 4, iPhone 4S, iPhone 5, iPod touch (3rd generation), iPod touch (4th generation), iPod touch (5th generation) and iPad. Requires iOS 4.3 or later. This app is optimized for iPhone 5.
For more information, visit the iTunes App Store.
Below is the music video. Don't be surprised if you find yourself inadvertently humming it.