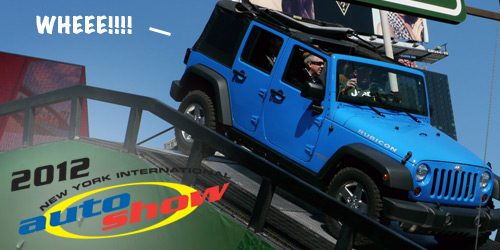 I recently had the opportunity to cover the New York International Auto Show as a member of the press. As such, I was given advance access before the official opening of the show to the general public to view the latest and greatest the auto industry had to offer as well as a peek into the automotive industry future. What struck me as I gazed upon one exquisitely sculpted piece of machinery to the next was how automobiles are toys for grownups. You could just hear the inner child in my colleagues as they wandered about the convention center "Ooh, I want the green one!" or "I want the fast car!" or even "I can climb boulders in this!" and so on. But parents on the other hand choose to deny their fun first choice in favor of responsible family oriented transportation. The equivalent of getting a nice pair of socks instead of the cool action figure toy for your birthday. Sure your feet will be warm and dry but can you go on a deep space adventure to save the planet from imminent destruction? I think not. The bottom-line is parents need toys too.
Being that I fall into the whole responsible parent category required to transport young children, I've opted to wait to procure the cool ride. Still, it doesn't mean I can't keep my sights trained on it. For me, that elusive cool ride vehicle has always been a Jeep Wrangler. A spunky go anywhere, climb anything, 4×4 that eschews the paved road just because. The marketing brain trust at Jeep figured out to tap into the adventurous spirit by creating Camp Jeep for Auto Shows throughout the world. A potential customer is given a first hand experience as a passenger to encounter the off road prowess of Jeep vehicles. When I discovered the NY Auto Show had set up a Jeep Camp, I couldn't wait to hop into a Jeep Wrangler. And so I did.
I must have been grinning the entire ride. My driver was pleasant and tremendously helpful and you could tell she truly loves her job. I may not have gone home with a new Jeep Wrangler, but at least I came a little closer to living the dream.
What's your dream car?