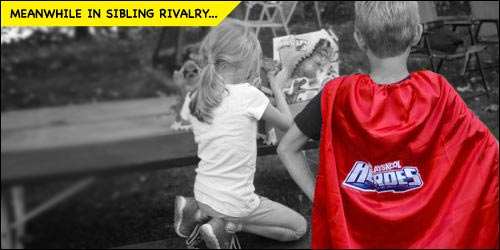 From the moment my youngest entered the world it began. My then two year old son instantly recognized there was a challenger to his throne. Sure his newborn sister was tiny and cute yet in his mind she represented a formidable opponent. "She can't play with any of my toys!" he exclaimed. And for her part, she didn't. At least not for a few months anyway.
As kids are prone to do, my children grew older as the years passed. Unfortunately, so too did their sibling rivalry. Being that my son's choice of toys were mostly superheroes, dinosaurs, and mechanized vehicles, my daughter tended to gravitate to them as well. Although their selection of toys overlapped, the imaginary story lines they'd impart to said toys would be quite different. My son would have action packed epic battles to save the universe. My daughter's approach was to create social gatherings which included dinosaurs, bunnies, and superheroes visiting from out of town. She took great pride having taught me the "fact" that T-Rex dinosaurs got their names "because they really love tea Daddy, duh!"
As to be expected, when both kids played in the same room worlds literally collided. I've never been a lion tamer but I'd imagine the experience is eerily similar to my own. Yet whenever I intervened to "bring peace once more to the land" my children inexplicably teamed up and unleashed their collective fury on me. Truth be told, sometimes it's kind of fun but don't tell the kids I said that.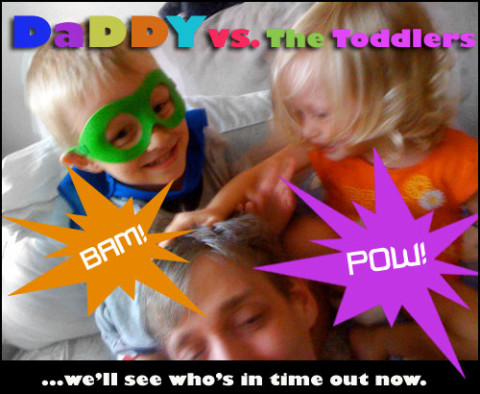 Now that my combative duo are "big kids" who attend elementary school, their level of competitiveness has evolved to a policy of detente. Besides, they realized the toy to kid ratio increases in their favor when coupled with good behavior. Also factor in the key detail that I get to review pretty cool toys quite often as part of my job requirement here at CuteMonster HQ and it's not too difficult to understand the motivation to give peace a chance. I have a theory that most dictators didn't have enough play time, family love, and engaging toys as kids but I digress.
When I recently received a trio of toy sets from Playskool to try out, I was intrigued to gauge the reaction of my children. My oldest has begun the leap to interests and toys for older kids. My daughter's in the age range of Playskool toys but still emulates her big brother's lead in some respects. Still, Playskool sent over a tempting lot including Jurassic World Tyrannosaurus Rex, Iron Man Armor Up Fortress and Transformers Rescue Bots High Tide.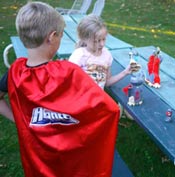 My son feigned disinterest when seeing the 3 to 7 age range for the toys. Still, he stuck around to "supervise" his younger sister on set up as well as advising on play tactics. My daughter quickly took a liking to the Iron Man Armor Up Fortress which my son begrudgingly admitted "really liking" too. Being able to have Tony Stark change into the classic Iron Man armor or the War Machine variant was a nice touch. My personal preference was for the Jurassic World Tyrannousaurus Rex because dinosaurs! Also it has crazy illuminated yellow eyes and a throaty cool roar with biting action when you bend it forward. The set includes a human figure as well which I assume is for when the T-Rex needs an organic snack. The Transformers Rescue Bots High Tide came in a close third which I'm certain will have great appeal to robot fans.
Sibling rivalry remains a struggle in most families but so does finding missing socks. It's a bittersweet experience witnessing one's children mature. I'd like to think that Play bridges the experience with fun. If you're a parent, it might be wise to embrace it. Or at the very least, learn to duck and move when the battle rages on.
MORE ABOUT THE PLAYSKOOL TOYS

JURASSIC WORLD TYRANNOSAURUS REX
It has a roaring, glowing eyed T-rex! What more do you need to know? Although based on Jurassic World, kids won't need prior knowledge of the movie to enjoy playing with this T-Rex. As mentioned previously, it comes with a human figure to befriend said dinosaur or possibly provide a quick snack on the go.
Recommended for Ages 3 years and up. Available now.

SUPER HERO ADVENTURES IRON MAN ARMOR UP FORTRESS
If your kids like the idea of suiting up Tony Stark in his armor, this little play set won't disappoint. Comes with two different suits of armor as well as a configurable play set.
Recommended for Ages 3-7 years. Available Fall 2015

TRANSFORMERS RESCUE BOTS HIGH TIDE
Transforming rescue boat High Tide comes with robots in disguise! The toys are based on characters from the animated TV series, Transformers Rescue Bots. A lot of fun to be had with compartments, moving parts et all. Also includes a movable crane!
Recommended for Ages 3-7 years. Available Fall 2015
Check here for information about Hasbro & Playskool:
Instagram: @Hasbro • Twitter: @HasbroNews • Facebook: Facebook.com/Playskool • www.hasbrotoyshop.com
Three cheers for the good folks at Playskool! Dads love the opportunity to spend time and play with our kids. These sets make it easy! Thanks for providing the cool toys in this article as well as compensating me for my time. Opinions are 100% my own as well as my unofficial toy testers aka my kids.
Like this article? Why not drop by our Facebook page and give us a LIKE? It's our informal hangout for CuteMonster fans. We love pop culture, toys, sci-fi, movies, comedy, tech, and more. Join us!