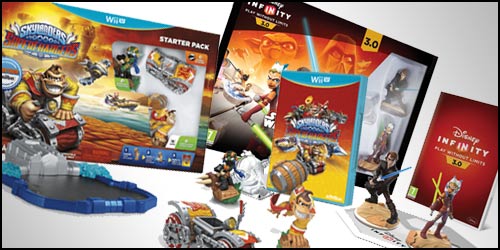 If you've been a parent on this planet for the past 5 years you may have noticed the craze in the toy-to-life video games genre. Skylanders has made a huge impact and has prompted competition in the form of Disney Infinity and now the recently released LEGO Dimensions. In what arguably could be characterized as an over saturated market, the need to innovate takes on a heightened sense of urgency. Given that these play sets can be quite costly by design with the myriad of add-ons why can buy including additional characters, vehicles, and levels, the choice becomes more of an investment rather than an impulse purchase. The good folks from Activision and Disney sent CuteMonster starter packs to test out Skylanders Superchargers and Disney Infinity 3.0 respectively. As a longtime gamer now with kids of my own, I couldn't wait to see who came out on top.
Skylanders Superchargers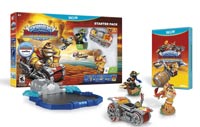 Activision created an enormously successful franchise with Skylanders related games, toys, and merchandise. The existence of the toy-to-life video game genre owes much to their success story. With each new iteration of Skylanders, they've added a new innovative twist to the gameplay. Giants, swapping characters, trapping villains, etc. all have kept gamers captivated over the years. The latest Skylanders release, namely Skylanders Superchargers builds on previous game themes and integrates their own take on Nintendo Super Mario Kart racing. Skylanders Superchargers even has Nintendo's own Donkey Kong and Bowser (both Amiibo too) as a Nintendo Wii U exclusive. After a gamer successfully completes 3 chapters of the Skylanders Superchargers story, local and online racing becomes available to players. If a player has access to a set of land, sea, and air vehicles as well as characters from those elements, one can play through the entire game without any limitations. In other words, you won't need to continuously make purchases to unlock gameplay. Buying additional figures and vehicles will be purely optional.
What about the gameplay?
If you've played any previous version of Skylanders, you'll instantly be familiar with the controls and style of play. Vibrant level design will delight gamers as they're called upon once again to save the Skylander universe from impending doom. The new Superchargers vehicles are integrated well in the gameplay. Each vehicle has unique properties as well as the ability to be "supercharged" via upgrades as players complete level missions. Yet in order to make use of the new upgraded capabilities, the vehicle must be matched with the correct character otherwise the vehicle will remain in its default mode. The game environments are simply breathtaking and clever. I personally loved any level making use of a water vehicle. Activision's developers have delivered an experience that's both challenging and thrilling largely due to the detailed attention given to the physics of movement. In Skylanders Superchargers, it's all about the vehicles.
Disney Infinity 3.0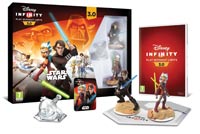 In the past I had been hesitant to partake in Disney Infinity games because the consensus had been although the story gameplay was satisfactory, the toy box mode, a programmable environment for players to create their own levels and make use of a variety of characters and features, was less than intuitive. As a gamer and a Dad, I wasn't willing to chance any potential frustration for my kids and I in what ideally should be a fun experience. Fast forward to the present, Disney Infinity 3.0 not only promised a more refined Toy Box experience but also included Star Wars! I couldn't resist.
I was sent the starter pack for Disney Infinity 3.0 which included the Disney Infinity 3.0 Edition Video Game, Star Wars: Twilight of the Republic play set piece, 1 Disney Infinity 3.0 Edition Base, Ahsoka Tano, Anakin Skywalker and 1 Web Code Card. I decided to purchase Darth Vader and Yoda figures just to add to the fun.
How about the gameplay?
When you start up the Disney Infinity game for the first time it takes you through a sort of a gameplay tutorial. The character you control on the screen isn't necessarily the one on the base. Overall, I found the tutorial useful to get quickly get up to speed. The Toy Box was explained as well yet I could tell it would require an investment of time to master. Still, it was not nearly as daunting as the criticisms of past iterations. In fact, my son and I played around in various Toy box environments all the while discovering the freedom and joy of creating our own worlds of fun. Hunting around the menus can sometimes be tedious, but I'm confident future Disney Infinity versions will continue to make improvements. As for playing the game, Star Wars fan will quickly delight in the attention to detail from the visuals, the character movements, and even the music. The controls are simple and effective. I giggled like a 10 year old when discovering Darth Vader can throw his lightsaber as a long range attack.
Overall, Disney Infinity 3.0 could be characterized as exceptional family entertainment. Considering the depth of characters from recognizable Disney properties such as Star Wars, Marvel and Pixar, as well as the numerous play sets being released this Fall and in 2016, Disney Infinity 3.0 offers considerable return on investment.
The Verdict
If one is already heavily invested in Skylanders or Disney Infinity I'd recommend to stick with one or the other merely on a cost savings basis since both games allow older characters to play in the new games. If money was not an obstacle, I'd heartily recommend getting both. Skylanders Superchargers is a step up from previous versions allowing online play, neat vehicles, and backward compatibility with characters. Disney Infinity 3.0 offers entry into the Star Wars universe as well as the vast array of Disney properties, easy gameplay, and the Toy Box which has great potential as educational tool in respect to learning programming logic. If could only choose one? I'd opt for Disney Infinity 3.0 with Star Wars being the tipping point.
What do you think? Skylanders Superchargers or Disney Infinity 3.0?
Like this article? Be sure to share it as well as give our Facebook page a LIKE! It's our informal hangout for CuteMonster fans who enjoy all things pop culture, entertainment, and family fun.