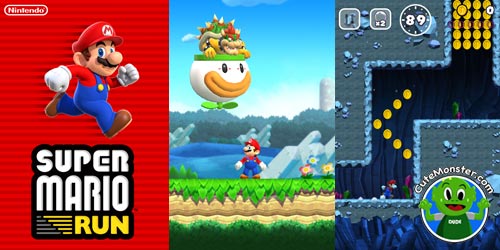 The wait for Nintendo Super Mario Run has ended. The world's favorite little mustached plumber has a new game available for mobile devices. It's a paradigm shift for the beloved Video Game Industry giant since historically Nintendo has shunned providing its 1st party game titles to non-Nintendo hardware.
I was able to download the game for free today. To unlock the full version of the game there's a one-time fee of $9.99. This will essentially let players avoid the the free-to-play tollgates that sully smartphone games with the incessant demands for more money as the game progresses.
How's the gameplay?
You'll instantly be familiar with this Nintendo platformer. The levels are fun yet challenging requiring players to collect coins. There are numerous stages and worlds to explore. You'll enjoy a neat little village design mini-game called Kingdom Builder. In addition there's Toad Rally, an multiplayer mode that requires style to advance to level completion. The three modes are connected to one another unlocking upgrades and more. As for controls, they're somewhat limited. You'll basically be swiping to jump, twirl, etc. or on occasion tapping to free oneself from bubbles. Timing is key to succeed in the game.
Overall, we think this represents a fantastic first effort for Nintendo as it enters the competitive world of smartphone video games.
Meet Nintendo Super Mario Run

Overall Grade: B+
Recommended for ages 6 and up
Pros: Mario doesn't disappoint. Colors and visuals are vibrant. Gameplay is intuitive.
Cons: Swiping is limited and frustrating at times. Could use more button type controls.