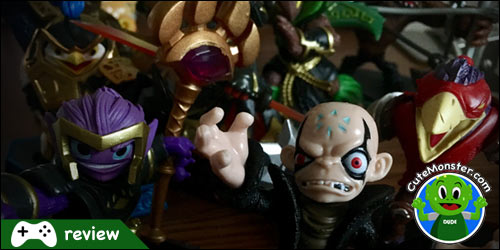 In 2011, Activision's Skylanders gaming franchise took the family video game category by storm. Kids were obsessed with their unique and highly collectible toys-to-life. Each new iteration of their games featured a new wave of interactive figures. In addition, each game title evolved providing innovative game play as well as an expansion of the franchise's universe. As a player you may have navigated a submersible underwater vehicle, or taken flight high in the clouds, or even raced furiously against opponents around an obstacle-laden track. For 2016, Skylanders Imaginators gives players the power to unleash their imagination. In short, you can custom design your own in-game player from head to toe.
How's the Gameplay?
If you've ever played any previous version of Skylanders, you'll be perfectly familiar with the gameplay–running, jumping and non-stop shooting. Each figure has unique abilities. They belong to an elemental class such as fire, water, etc. Throughout various levels, specific element oriented figures will be needed to open up unique sections or unlock upgrades or perform certain tasks. In addition, the use of Creation Crystals allow players to custom design Skylanders. To me, this is the main reason to purchase this particular game. The intuitive interface provides numerous options. It's a fun process which kids will love. Perhaps too much. You see, you can only create 1 new Skylander per Creation Crystal. Each Creation Crystal needs to be purchased separately. And each Creation Crystal is designated with a different element so if you wanted to make a Skylander of the Green element, you'd need to buy a Green Element Creation Crystal.
How's the game's replay value?
As mentioned previously, what really hooks players into the game is the ability to create their own Skylander. The gameplay becomes elevated when one can introduce their own ideas into the mix. In that sense, compared to previous versions of the game, the replay value is quite high and therefore a good return on investment.
Overall Grade: A-
Recommended for ages 8 and up.
Pros: Custom design your own Skylander.
Cons: Can get expensive over time.
Disclaimer: CuteMonster.com was sent the Skylanders Imaginators Starter Kit as well as several figures for review purposes. As always, our opinions are our own as well as our fights over the game controllers.