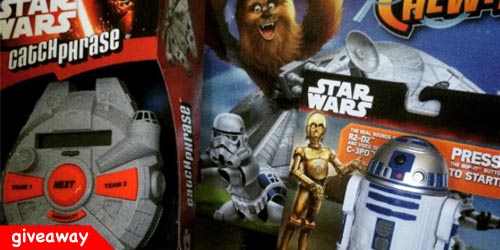 Full disclosure: I participated in an Influencer Activation on behalf of Influence Central for Hasbro. I received product samples to facilitate my review and a promotional item to thank me for my participation.
The Star Wars marketing hype has reached fever pitch. Star Wars: The Force Awakens opens in December 2015 and fans worldwide are clamoring for every tidbit of information associated with the film. My own family has certainly not been immune to being obsessed over the next chapter of the Star Wars story. The movie bridges a generational divide, bonding us, surrounding us, you know…like the Force. When Hasbro sent over Star Wars related games to CuteMonster HQ to try out for family game night, I could hear John Williams' epic Star Wars theme music in my mind. The only thing missing was a piping hot bucket of popcorn.
I've never been one to eschew a great story or playtime for that matter. Imagination lays the foundation for all the wonder found in the world. Children in particular tap into wonder without inhibition. There's an inherent purity to a child discovering life as it unfolds that adults understandably forget given the external pressures one encounters over time. Fun should be effortless and yet as responsibilities grow, so too does the compartmentalizing of the simple pleasures of being human. That's why having children can be a gift; an awakening of our dormant creative selves. Simply put, kids teach adults how to have fun again. But I digress. Back to the Hasbro Star Wars games.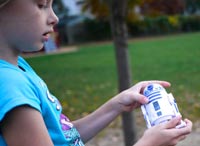 We were instantly drawn to the Bop It! Star Wars R2-D2 edition game. The little toy droid game has all the beloved sounds of R2-D2 as well as the addition of C-3P0 providing real time game play directions. With a solo mode or pass mode, it makes for a great travel option for family game play given its portable size. I loved how both my kids were immediately enamored by it. The enduring appeal of this heroic iconic little droid warms my geek Dad heart.
Here's more information about the games we were sent:
Electronic Catch Phrase: STAR WARS Edition Game:
(Ages 13 years & up/Players: 2 teams/Approx. Retail Price: $24.99/Available: September 2015)
Find out who the biggest STAR WARS fan is in this classic party guessing game shaped like a MILLENNIUM FALCON! Choose a difficulty level and test each team's trivia skills and speed by describing the STAR WARS phrases as they appear on the device. Shout, gesture, and say anything else but the words in the answer to help your team guess correctly before time runs out! The ELECTRONIC CATCH PHRASE: STAR WARS Edition game requires 3 AAA batteries, not included. Available at most major retailers nationwide and HasbroToyShop.com.

STAR WARS LOOPIN' CHEWIE Game:
(Ages 4 years & up/Players: 2-4/Approx. Retail Price: $24.99/Available: September 2015)
One of the most recognizable characters from the STAR WARS saga has been combined with the wild fun of LOOPIN' LOUIE to bring zany, fun-flying action to a galaxy far, far away. Players must help CHEWIE co-pilot the MILLENNIUM FALCON and try to send him swinging straight into the STORMTROOPERS on the other player's rack. Available at most major retailers nationwide and HasbroToyShop.com.

BOP IT! STAR WARS R2-D2 Edition Game
(Ages 8 years & up/ Players: 1 or more/Approx. Retail Price: $14.99/Available: Fall 15)
Bring a galaxy far, far away to the palm of your hands with the BOP IT! STAR WARS R2-D2 Edition Game. Just like the classic BOP IT! game, players must twist, bop, and pull the R2-D2 figure in response to his commands to be the last JEDI standing in this fun and fast reaction memory game. The BOP IT! STAR WARS R2-D2 Edition Game features STAR WARS movie sounds and the voices of fan favorites R2-D2 and C-3PO. Requires 3 "AA" batteries, not included. Available exclusively at Wal-Mart.
Giveaway!!!
But wait, there's more! Be sure to enter for your chance to win all 3 of these games below!
*I-C will randomly select 5 winners from all program entries and will handle fulfillment of the winning prizes.
Good luck everyone. And may the force be with you…always.